10 greatest Minnesota Vikings safety duos of all-time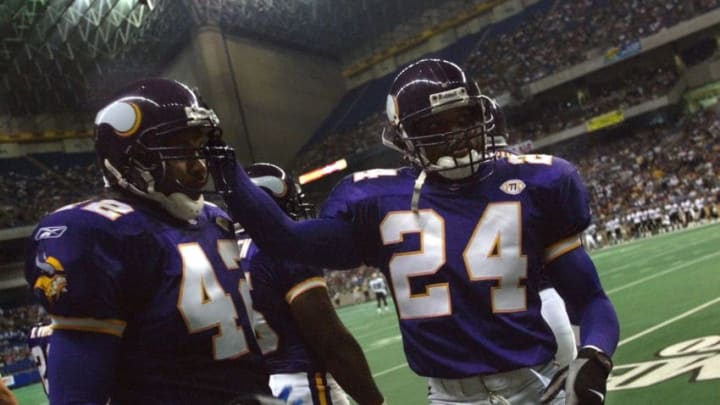 (Photo By JUDY GRIESEDIECK/Star Tribune via Getty Images) Orlando Thomas and Robert Griffith /
(Photo by Focus on Sport/Getty Images) John Turner /
8. John Turner and Tom Hannon (1982–1983)
2 seasons
8 interceptions
6 fumble recoveries
1 touchdown
49 starts
John Turner and Tom Hannon combined to play 17 seasons in the NFL and 16 of them were with the Vikings.
Like Corey Chavous, Turner started his career with Minnesota as a cornerback. A second-round draft pick in 1978, Turner broke into the starting lineup his second season.
Hannon joined the Vikings as a third-round draft pick in 1977 and like Turner, he only needed two years to become a starting safety. Hannon played eight seasons with Minnesota and he will make another appearance on this list.
Turner and Hannon teamed up as safeties after being teammates for five years. Interestingly, the only two seasons that Hannon did not have an interception came when he and Turner were the Vikings' starting safeties. Turner is currently tied for seventh place in Minnesota history with 22 interceptions.
In 1984 Turner played with the Chargers before returning to the Vikings, however, Hannon's last season in the NFL came in 1984. Their best season came in 1983 when Turner intercepted six passes and they both came up with two fumble recoveries.
7. Karl Kassulke and Dale Hackbart (1966–1967)
2 seasons
11 interceptions
3 fumble recoveries
1 touchdown
53 starts
Dale Hackbart entered the NFL as a fifth-round draft pick of the Green Bay Packers in 1960, a year before the Vikings franchise began. In his second season, he moved to Washington and played three seasons with the Redskins.
Hackbart then went from the NFL to the CFL and he played two seasons for the Winnipeg Blue Bombers under future Minnesota head coach Bud Grant. In 1966, Hackbart joined the Vikings and was reunited with Grant in 1967.
In his first two seasons with the Vikings, he started 25 of 28 games before being replaced in 1968 by another player who will appear on this list. In 1966, Hackbart led Minnesota with five interceptions, returning one for a touchdown.
Karl Kassulke was an 11th-round draft pick by the Detroit Lions in 1963, yet he started 12 games for the Vikings that season. His career spanned for 10 seasons in Minnesota and it ended after a motorcycle accident on his way to training camp in 1973 that left him paralyzed. Kassulke will appear again on this list.