NFL draft rumors: Jets could take Josh Doctson at 20?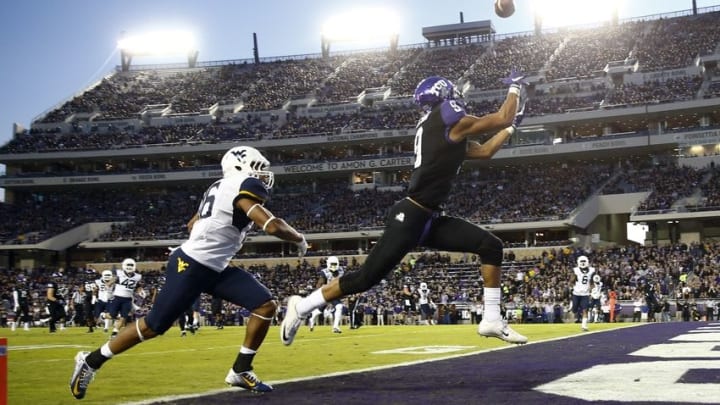 Oct 29, 2015; Fort Worth, TX, USA; TCU Horned Frogs wide receiver Josh Doctson (9) catches a touchdown pass past West Virginia Mountaineers cornerback Terrell Chestnut (16) during the first quarter at Amon G. Carter Stadium. Mandatory Credit: Kevin Jairaj-USA TODAY Sports /
A new NFL draft rumor says the New York Jets could be targeting Josh Doctson with the #20 overall pick.
They say you should never believe anything you read in the days leading up to the draft, because of all the smoke-screening and lying and jockeying for position going on, so take this Ian Rapoport tweet with a grain of salt.
I'm not saying the New York Jets are floating this out there in an attempt to get a team, the Vikings for instance, to panic and trade up. I'm just saying that teams have disseminated that kind of rumor for that exact reason in the past. And it may even have worked once.
Of course, Rick Spielman knows how this game is played and is not going to be taken in by such a ploy.
And anyway, as Spielman informed everyone during his pre-draft presser on Tuesday, the Vikings are not necessarily locked in on drafting a receiver in the first round. And Rick Spielman would never lie.
Every other GM lies in the days leading up to the draft, but not Spielman.
Seriously though, it could create a very interesting situation if the Jets (or some other team) did take Josh Doctson off the board ahead of the Vikings' draft slot at #23.
Assume for the sake of argument that Minnesota is locked in on taking a WR (despite Spielman's statement to the contrary) and is leaning toward Doctson. If Doctson comes off the board, do the Vikings then settle for another receiver or do they address another position entirely?
Next: Should Vikings trade for Michael Floyd?
Or do they try to trade down from #23 and perhaps acquire a veteran wide receiver as part of that trade? Maybe Arizona's Michael Floyd? Rumor has the Cardinals dangling Floyd as trade bait ahead of the draft.
And oh by the way, Rick Spielman said he's already fielded calls from at least two teams looking to trade up to #23.
So much stuff out there right now, all of it possibly baloney. But it makes for good speculation.