Positives and negatives from Minnesota Vikings games at U.S. Bank Stadium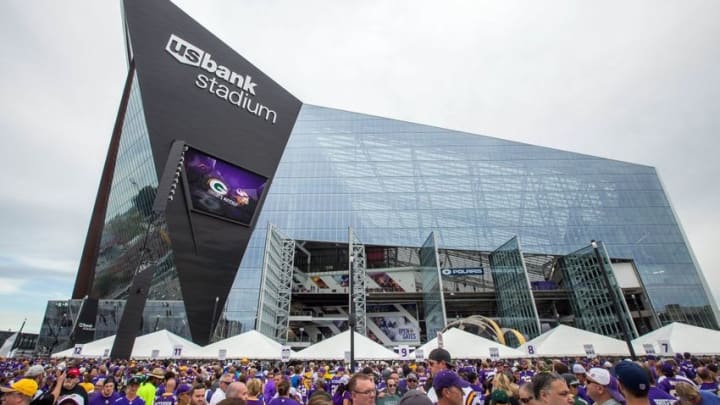 Sep 18, 2016; Minneapolis, MN, USA; A general view of the extra of U.S. Bank Stadium prior to the game between the Minnesota Vikings and Green Bay Packers. Mandatory Credit: Brace Hemmelgarn-USA TODAY Sports /
Sep 18, 2016; Minneapolis, MN, USA; A general view of the extra of U.S. Bank Stadium prior to the game between the Minnesota Vikings and Green Bay Packers. Mandatory Credit: Brace Hemmelgarn-USA TODAY Sports /
Overall experience
To be honest, if you're in shape and can keep up with the crowds, you're going to have a fantastic experience at U.S. Bank Stadium.
With everything there is to see and do at the facility, you could easily eat up an entire day checking out the surrounding area and watching the game. With the artwork, exhibits, structures, eateries, and shops along the way, there is almost nothing you can't do at a Minnesota Vikings game that you would want to.
Once the kinks get worked out with the gates and the crowds have a better understanding of the layout of things, the negative things on this list will be almost nothing. If they can sprinkle in a couple of benches here and there, this would be the perfect facility for any event, especially NFL football.
Attending a game at U.S. Bank Stadium is an amazing experience. If a fan has the opportunity to do so, they absolutely should. Having been to games at the Metrodome and TCF Bank as a fan from Michigan, this is by far the most unique experience I've had watching a game. And it didn't hurt for the Minnesota Vikings to pull off a nice win against the Packers either.
For now, it's time to get back out the DDP Yoga, exercise videos, and go on my Pokemon Go walks to get in better shape for those steps in preparation of attending another game. My dogs were barking after that U.S. Bank Stadium experience, but it was totally worth every second of it.