Minnesota Vikings offensive coordinator Norv Turner resigns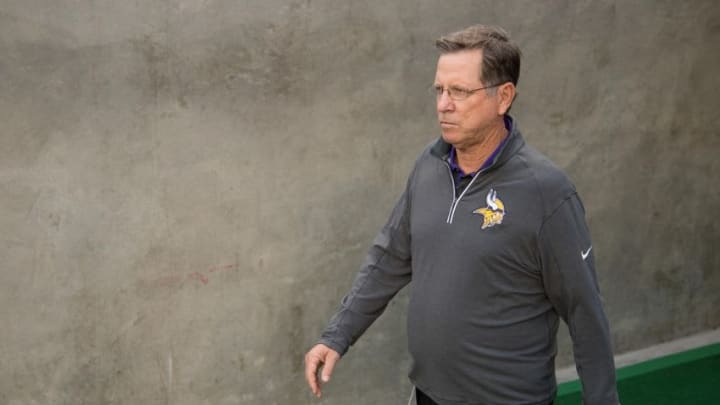 September 14, 2015; Santa Clara, CA, USA; Minnesota Vikings offensive coordinator Norv Turner exits the team tunnel before the game against the San Francisco 49ers at Levi /
Some shocking news came from the Minnesota Vikings on Wednesday, November 2, 2016 when the team announced offensive coordinator Norv Turner has resigned.
It is no surprise that the Minnesota Vikings have been struggling offensively this season. Much of that likely has to do with the team's injuries, losing their starting quarterback, running back, and offensive tackles due to injury.
Now, there has been one more major change to the offense of the team. Announced on the morning of Wednesday, November 2, 2016, offensive coordinator Norv Turner has stepped down from the team.
Here is the tweet from Jason La Canfora announcing the move from his personal Twitter account:
Turner offered this statement after his resignation according to Pro Football Talk:
""I have tremendous respect for Mike Zimmer, our coaching staff, and our players and at this time I think it is in the best interest of the team to step down. I thank the Wilf family for my time here in Minnesota and want to see our players and coaches achieve success.""
Now, the Minnesota Vikings will be moving forward with Pat Shurmur in the role of offensive coordinator to fill the vacancy left by Turner.
Shurmur has a lot of experience in the NFL as a head coach or interim head coach as well as work with the offensive line. He will have the huge responsibility of attempting to right the ship offensively for the Vikings.
Norv Turner's son Scott will stay on as the team's quarterback coach, so no changes will need to be made in regards to that position as the team moves forward.
Next: Vikings make no moves before trade deadline
The Minnesota Vikings are scheduled to take on the Detroit Lions next week, and it will be interesting to see the difference in playcalling between Norv Turner and Pat Shurmur. However, this transition will need to happen quickly, as the NFL waits for no team to adjust to adversity.