Laquon Treadwell enjoying a quarterback who actually targets him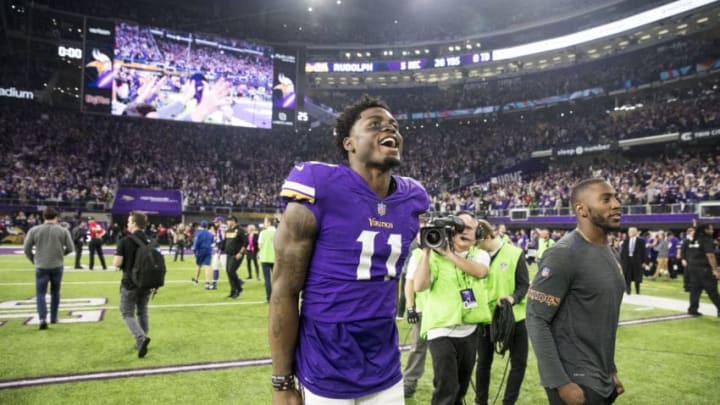 (Photo by Adam Bettcher/Getty Images) Laquon Treadwell /
When speaking about Kirk Cousins on Wednesday, the Minnesota Vikings wide receiver made a very interesting comment.
To say that Laquon Treadwell's first two seasons with the Minnesota Vikings have been disappointing is a statement that not many would likely disagree with.
After the Vikings used their first-round selection in the 2016 NFL Draft on Treadwell, the hope was he would be able to contribute almost immediately. Young receivers have been experiencing success early in their careers lately, so thinking Treadwell could do the same in Minnesota didn't seem too crazy of an idea to have.
However, in his two seasons with the Vikings, the 23-year-old receiver has only managed to catch a total of 20 passes for 200 yards. Treadwell still has not even scored a touchdown in his NFL career yet despite appearing in 25 games.
(Photo by Adam Bettcher/Getty Images) Laquon Treadwell /
But maybe the struggles he has experienced in his first two years with Minnesota have not been entirely his fault? Perhaps some of his unimpressive production had to do with the guys the Vikings had starting under center?
Well for 2018, Minnesota will have Kirk Cousins as their starting quarterback, who is a signal caller known for making pretty good use of each receiver in his offense. Based on what Treadwell said after the Vikings' second day of minicamp on Wednesday, it sounds like the receiver is already enjoying the addition of Cousins.
When asked about how different it has been in practice this year with Minnesota's new quarterback, Treadwell didn't hold back with his answer.
""Just the way it comes out of his hand, it's different. And he's actually targeting me, so that's fun too." Minnesota Vikings The Viking Age 0d - 6 biggest draft steals in Minnesota Vikings history More headlines around FanSided: 1d - Former Vikings first-round pick could reportedly return to NFC North 1d - Bears analyst has extremely embarrassing Kirk Cousins take 1d - 6 Vikings who (maybe) won't make the 53-man roster in 2023 2d - Which teams could be drafting a quarterback next year? 2d - Predicting what the Vikings will do in the 2023 NFL Draft based on 2022 More News at The Viking Age"
Some may try and not believe it, but Treadwell's comment about Cousins actually targeting him is certainly a dig at the previous Minnesota quarterbacks the receiver has played with during the last two seasons.
However, Treadwell definitely does have an argument for those who would like to question his lack of targets.
In the last two years, the Vikings' receiver that finished each season with the third-most targets had an average of 53 passes thrown their way. With Cousins as the quarterback for the last two years, the Washington Redskins' third-most targeted receiver saw an average of 82 passes come their way per season.
That's a tremendous difference. So it's not really surprising that Treadwell is already excited about Minnesota's new starting signal caller.
Next: 5 best Vikings wide receivers since 2000
Will the addition of Cousins lead to the young Vikings receiver actually having an impressive season in 2018? Time will tell, but it seems like Treadwell will at least be given a better opportunity to do so this year.