Barr could still be in line for an extension from the Vikings this year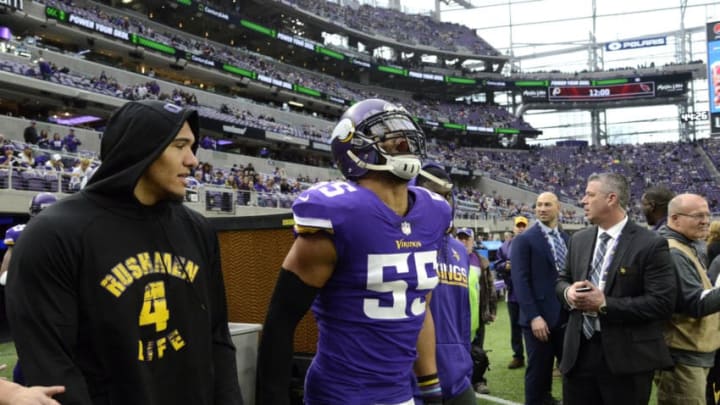 (Photo by Hannah Foslien/Getty Images) Anthony Barr /
Even after the Minnesota Vikings gave Stefon Diggs a new deal on Tuesday, the team still has plenty of money to give the linebacker an extension of his own.
It was all smiles for Stefon Diggs on Tuesday as the receiver was given a five-year extension from the Minnesota Vikings worth more than $70 million. With his new deal, Diggs joined defensive end Danielle Hunter and linebacker Eric Kendricks in the group of players to receive an extension from the Vikings this offseason.
Despite locking up another one of their young talents, there are still plenty of questions that remain about the future of Minnesota's roster. Figuring out their plans for linebacker Anthony Barr is something that is at the top of the Vikings' list of decisions to make.
Barr is currently in the last year of his rookie contract and is scheduled to make more than $12 million this season. Both Minnesota and the linebacker have recently expressed their desire to get a new deal done, but no agreement has been able to be reached yet.
So what is preventing a deal from being made?
Is Barr asking for too much money? Are the Vikings hesitant to give the linebacker a big contract due to the fear of him possibly giving less effort on the field after getting paid?
It's not like Minnesota is desperate for cash at this point either.
Even after the extension they just gave to Diggs, the Vikings still have almost $10 million remaining in cap space. Which is plenty of money to use on a new deal for Barr.
Minnesota Vikings /
Minnesota Vikings
If Minnesota and the linebacker cannot agree to an extension this year, it's quite possible that the team could use the franchise tag on him in 2019. Depending on how this season goes though, the Vikings might want to use their 2019 franchise tag on defensive tackle Sheldon Richardson instead.
Minnesota also has to consider what they would like to do with cornerback Trae Waynes next year. The Vikings picked up Waynes' fifth-year option this offseason and if the team follows through and keeps him on the roster for 2019, the corner will make more than $9 million next season.
One would imagine that Adam Thielen is going to be looking for a pay raise from Minnesota in 2019 too if he continues to perform at an elite level this season. Thielen's current deal doesn't expire until 2021, but his average salary until then is under $6 million.
If all the Vikings had to do was worry about Barr's contract and prevent him from becoming a free-agent in 2019, then he would have probably received an extension from the team already.
But Minnesota has a multitude of factors to consider before they give a lucrative deal to a player who has been accused of coasting on the field at times by Vikings head coach Mike Zimmer.