What led to the Minnesota Vikings firing John DeFilippo?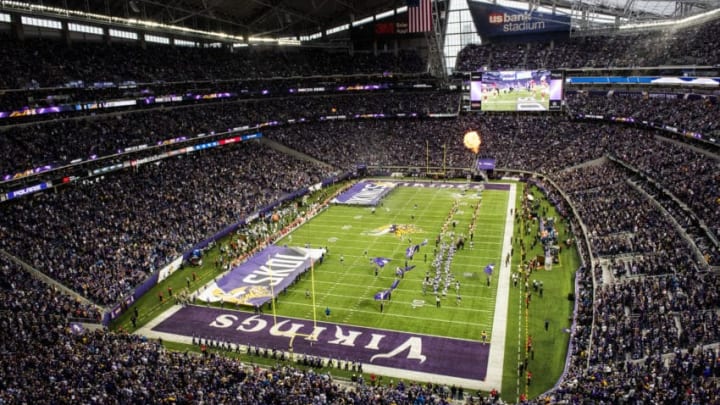 (Photo by Stephen Maturen/Getty Images) /
How did the Minnesota Vikings decide that firing their offensive coordinator before the end of the season was the best decision moving forward?
Following their disappointing loss to the Philadelphia Eagles in the 2017 NFC Championship, the Minnesota Vikings also had to unfortunately say their goodbyes to offensive coordinator Pat Shurmur.
After a very successful season leading the Vikings' offense, Shurmur decided to leave his role in Minnesota to become the new head coach of the New York Giants. Obviously the Vikings were happy for their former offensive coordinator, but they also knew that filling his position on the coaching staff was now a top priority for the offseason.
After interviewing a number of candidates for Shurmur's old job including Dan Campbell, Darrell Bevell, and Kevin Stefanski, Minnesota decided to hire former Eagles quarterbacks coach John DeFilippo to be their new offensive coordinator.
The hiring was met with much excitement, especially since DeFilippo was coming over from a coaching staff that just helped Philadelphia earn their first ever Super Bowl win. Now with him on their side, the Vikings were hoping he could help them accomplish something similar in 2018.
Prior to the start of the 2018 season, how Minnesota's offense would look under DeFilippo was still quite the unknown. The hope was that he would be able to take what the Vikings did well in 2017 with Shurmur leading the way and add his own wrinkle to it.
Shortly after his hiring, DeFilippo explained how his offense would emphasize on generating, "explosive pass gains and explosive run gains," by using pre-snap movement and creating mismatches all over the field.
With an offense that featured Adam Thielen, Dalvin Cook, Kirk Cousins, Kyle Rudolph, and Stefon Diggs, Minnesota fans had every reason to be excited about their new offensive coordinator.
But then came time for the actual season.
It was clear from the Vikings' first few games that DeFilippo wanted the offense to center more around their passing attack. Something Minnesota head coach Mike Zimmer has never wanted since he was hired in 2014.
The Vikings did run the ball 32 times during their Week 1 win over the San Francisco 49ers. But Minnesota then proceeded to finish with less than 20 total rushing attempts during their next three games, none of which resulted in wins for the Vikings.
In 2017, Minnesota had zero matchups in which they ran the ball less than 20 times. They actually only had three games with less than 30 carries and unsurprisingly, they all came during the Vikings' three losses last season.
Despite runs only being 29.8 percent of Minnesota's play-calls during their first four games, DeFilippo explained that he still wanted the run game to be an important part of the team's offense.
""There's no one that wants to run the ball more than me, and we're going to try to establish that and continue to grind away on that. But at the same time, there's a fine line between doing something just to do something and maybe taking some success away from your team.""
Taking the success away from the team? Did he not see how successful the Vikings' offense was in 2017 with journeyman quarterback Case Keenum leading the way?
With a little extra time to prepare between their fourth and fifth games this season, Minnesota saw an increase in their rushing frequency over their next few matchups. From Week 5 to Week 9, the Vikings ended with at least 20 rushing attempts in each of their games.
Minnesota's record during this span? A satisfying 4-1.
Then came the Vikings' bye week. It figured to be a time when Minnesota could get healthier and fine tune some of their schemes on both sides of the ball to get ready for a push to the playoffs.
Since their bye though, the Vikings have lost three of four and it has mostly been due to the lack of production on offense. Minnesota has not gained over 100 rushing yards in any of their last four games and in two of them, they finished with less than 15 carries.
As last season and their stretch from Week 5 to Week 9 proved, good things are not going to come for the Vikings when they fail to get production from their rushing attack.
It hasn't been just about the lack of run plays being called this season that have led to Minnesota's struggles on offense. But the way in which the Vikings are running the ball has led to their lack of success on the ground as well.
During his time in college at Florida State, Minnesota running back Dalvin Cook excelled when he was asked to carry the ball outside the tackles. The Vikings and Shurmur realized this in 2017 and proceeded to call plays for Cook to run on the outside of the line 57 percent of the time.
On these specific play-calls, the young Minnesota running back averaged six yards per carry last year.
Minnesota Vikings /
Minnesota Vikings
This season under DeFilippo, Cook has seen a big decrease in his carries to the outside of the tackles. Only 44 percent of his rushing attempts in 2018 have been to the outside, despite him still averaging four yards per carry on these play-calls.
So basically, one of the big reasons why the Vikings drafted Cook in 2017 was being very underutilized by the team's offensive coordinator this season. This just doesn't seem like the best decision to make.
Back in February when he was discussing how he would like to run the offense, DeFilippo mentioned that he wanted to get Minnesota's, "best playmakers in space and in positions for them to make plays."
With Cook this year though, the Vikings offensive coordinator was never really able to figure out how to utilize him best even though the writing on the wall seemed pretty obvious.
DeFilippo's failure to get the most out Minnesota's top running back has had a tremendously negative effect on their offense and now their playoff chances. This and his inability to meet his head coach's demands are ultimately what led to his dismissal on Tuesday.
(For more grades, advanced statistics and more at Pro Football Focus, subscribe to PFF's EDGE or ELITE subscriptions at ProFootballFocus.com.)