Kyle Sloter leads Vikings to preseason win over Seahawks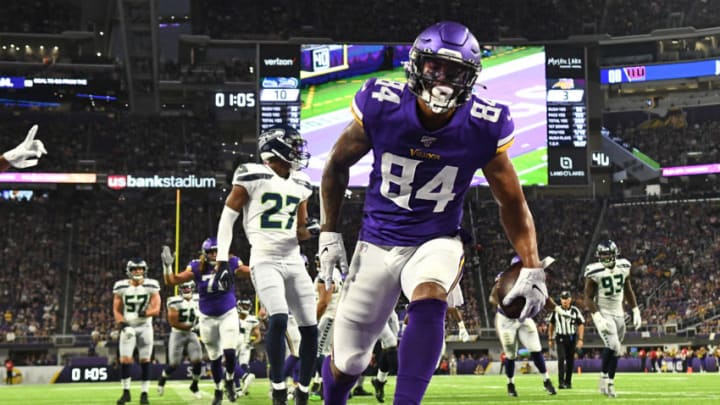 (Photo by Nick Wosika/Icon Sportswire via Getty Images) Irv Smith Jr. /
The Minnesota Vikings third-string quarterback reprised his preseason superstar role, leading the team to a win over the Seattle Seahawks on Sunday.
The Minnesota Vikings took part in their second preseason game of the year on Sunday against the Seattle Seahawks and after a decent start, it was time for Kyle Sloter to reprise his role as a preseason superstar.
The third-year quarterback entered the matchup in the second half to relieve Sean Mannion and with the help of a strong running game, the Vikings were able to pick up a 25-19 victory to start the preseason at 2-0.
The game got off to a decent start for Minnesota, as they were able to move down the field before having to punt to the Seahawks. Seattle would return the favor until Adam Thielen would take over the game by getting the ball down the field.
Thielen hauled in a long reception for the second straight week with a 34-yard catch from Kirk Cousins and then the receiver drew a pass interference penalty that would eventually set up a 24-yard field goal from Dan Bailey.
After Seahawks kicker Jason Myers tied the game with a 37-yard field goal early in the second quarter, Mannion threw an interception that was returned by a Seattle defender 88 yards for a touchdown, giving the Seahawks a 10-3 lead. Mannion would redeem himself before halftime, however, as he found Irv Smith Jr. for a three-yard touchdown to tie things up at 10 heading into the locker room.
It would be Sloter time from there as the preseason god started slinging the ball downfield. After Myers gave Seattle the lead again with a 52-yard field goal, Sloter retaliated with a long drive that ended with a four-yard touchdown pass to give Minnesota a 17-13 lead.
In the fourth quarter, Myers chipped into the lead with his third field goal of the night, a 27-yarder. Vikings fullback Khari Blasingame then plowed in for a one-yard touchdown run and a two-point conversion by Mike Boone gave Minnesota a 25-16 lead.
Myers later kicked a 20-yard field goal to cap off the scoring at 25-19 and after a few more snaps, the Vikings earned their second unofficial victory of the 2019 season.
Minnesota will now have a short week before their third preseason game of the year as they'll host Kyler Murray and the Arizona Cardinals on Saturday at 12 p.m. CT inside U.S. Bank Stadium.