Minnesota Vikings MVPs: Week 11 vs. Denver Broncos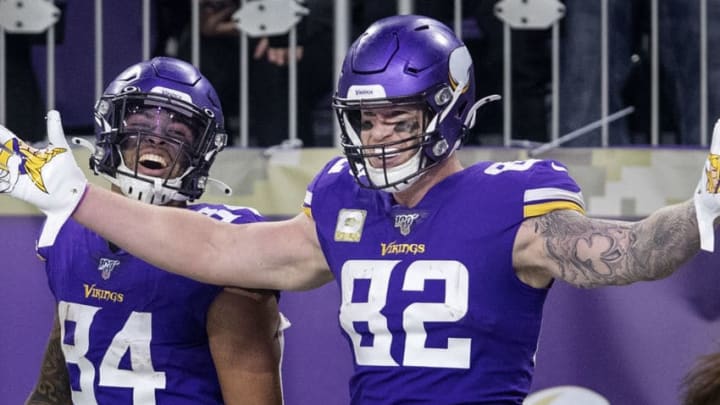 MINNEAPOLIS, MN - NOVEMBER 17: Kyle Rudolph (82) of the Minnesota Vikings celebrated after scoring touchdown in the fourth quarter against the Denver Broncos during an NFL football game at U.S. Bank Stadium on Sunday, November 17, 2019 in Minneapolis, Minnesota. (Photo by Carlos Gonzalez/Star Tribune via Getty Images) /
Stefon Diggs (14) of the Minnesota Vikings (Photo by AAron Ontiveroz/MediaNews Group/The Denver Post via Getty Images) /
Offensive MVP – Honorable Mentions
Let's be honest, at one point it looked as though this entire section of offensive players who actually looked good in this game would be empty. However, that changed in the second half when several players stepped up to give the team the boost it needed.
The offensive line struggled and the team was without star pass-catcher Adam Thielen against one of the league's best defenses. Denver's pass rush was extremely strong the entire game and their focus on stopping Dalvin Cook was very successful. Still, Minnesota found a way to get points on the board.
Even though these players weren't named the MVP, here are some honorable mentions for the award:
Stefon Diggs, wide receiver – After not hauling in a single catch in the first half of play, Diggs exploded for five catches on five targets for 121 yards, including a 54-yard score that was a perfect dart to the streaking receiver. He looked like the star player fans know he can be in the second half.
Kyle Rudolph, tight end – Continuing to prove that he's worthy of the extension he signed this offseason, Rudolph was great not only as a pass catcher, but as a blocker in this game. He was second on the team in receiving yards, gaining 67 yards while hauling in all five passes thrown his way and found the end zone on one of them.
Irv Smith Jr., tight end – Although he may have only had three catches in the game, he was also only targeted three times in the game. He cashed in those catches for 20 yards, but also got his first career touchdown during this game.
Bisi Johnson, wide receiver – Although he is the only player on this list to not catch every target thrown his way, he was the most targeted with nine and had the most catches with six, gaining 35 yards on the down.