Minnesota Vikings will love cornerback Cameron Dantzler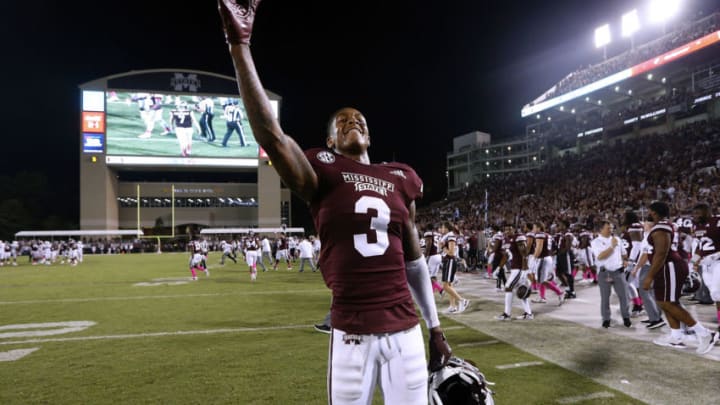 Cameron Dantzler #3 of Mississippi State (Photo by Jonathan Bachman/Getty Images) /
The Minnesota Vikings have high expectations on rookie cornerback Cameron Dantzler, and the third-round NFL Draft pick will be one to watch in 2020.
The Minnesota Vikings defensive backfield will look considerably different in 2020 than it did a year ago.
Gone are cornerbacks Trae Waynes, Xavier Rhodes and Mackensie Alexander. And in return, the Vikings used three of their 15 NFL Draft picks on cornerbacks to replace the losses: TCU's Jeff Gladney in Round 1, Temple's Harrison Hand in Round 5 and Mississippi State's Cameron Dantzler in Round 3.
Dantzler is the player to watch here.
The 6-foot-2, 188-pound defensive back could have been taken towards the tail end of Round 1. It wasn't uncommon to see him mocked in the late 20s or early 30s of the draft. So for the Minnesota Vikings to land Danztler is Round 3 is quite the steal.
But value isn't the reason why Vikings fans should be excited about the cornerback. Rather it's Dantzler's traits and production which have him on a course to be a quality starter at U.S. Bank Stadium for the foreseeable future. While he wasn't a massive ballhawk during his three seasons at Mississippi State, his 20 pass breakups during that span show a knack for getting in between the ball and the receiver he covered.
And that's one area in which Dantzler seems to thrive. Here's how.
Why Minnesota Vikings will love Cameron Dantzler
Dantzler isn't the fastest of players on the field. So he could end up having some difficulty with faster, shiftier wide receivers at the pro level.
Yet Dantzler makes up for this with a strong press-man routine. He doesn't mind getting physical with big-bodied wideouts, which is notable for his rather skinny frame. Frustrating receivers' routes early is how Dantzler ended up rising up NFL Draft charts leading up to April's selection.
You can get an idea of how Dantzler succeeds with this in the video below:
The competitive nature is how Dantzler makes up for his lack of speed and brute size, and his long and lanky frame is more than adept at breaking up passes thrown in his direction.
That explains all those pass breakups at the collegiate level.
While he has a long way to go to get into this kind of category, there are a lot of similar traits Dantzler possesses to another corner who uses strength and physicality to overcome a relative lack of speed: San Francisco 49ers cornerback Richard Sherman.
How Minnesota Vikings use Cameron Dantzler
The Vikings' losses within their secondary during the offseason could ultimately press Dantzler into a starting role right away, particularly if he impresses enough during training camp and the preseason.
Dantzler's frame points to boundary usage, although he might find himself on the weak side of the formation to start his pro career, typically lining up opposite teams' No. 2 wide receivers early on.
As talented as Dantzler is, young defensive backs often struggle a bit in transitioning from the college ranks to the pros.
That said, Dantzler's trajectory is more than promising. Barring a complete meltdown early or a long, drawn-out development, there's plenty of reasons to assume why the Vikings found a starting boundary corner for many years to come.