Would no fans be better or worse for the Vikings in 2020?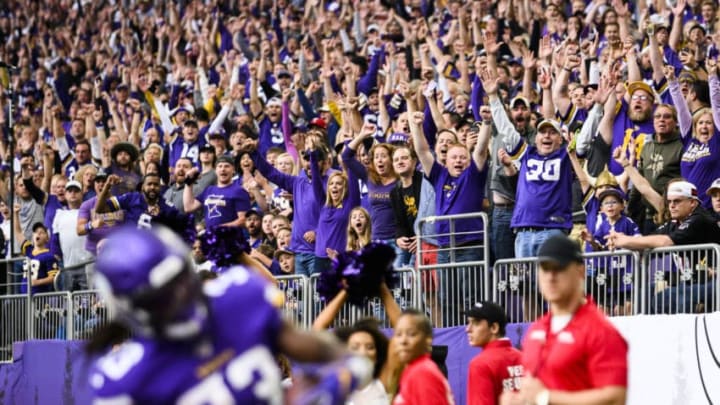 (Photo by Stephen Maturen/Getty Images) /
The Minnesota Vikings could potentially play the 2020 season without fans in attendance.
Since the impressive venue opened in 2016, U.S. Bank Stadium has developed into quite the home-field advantage for the Minnesota Vikings.
During the last four years, the Vikings have won more than 70 percent of their home games and the team has never ended a season with more than three losses inside their home stadium. Minnesota's raucous fans have really played a factor in determining the outcomes of some of the team's matchups during the last few years.
However, the Vikings could be heading into a season in which this advantage of having more than 66,000 screaming fans making life difficult for their opponents becomes non-existent. Due to the restrictions put in place for large public gatherings as a result of the COVID-19 pandemic, there's a chance that Minnesota could play the upcoming 2020 season without any fans in attendance.
Would no fans in the stands be better for the Minnesota Vikings in 2020?
The guys over at Bleeding Purple recently went over if the Vikings could still be successful next season without there being any fans in attendance at their games. They agreed that Minnesota's unique home-field advantage would be heavily impacted, but the absence of fans would also make their road trips much easier to come out with a victory.
In 2020, the Vikings have some difficult matchups outside of their home stadium that include games against the Chicago Bears, Green Bay Packers, Seattle Seahawks, and New Orleans Saints. These are all teams Minnesota has struggled against on the road in the past, so the elimination of crowd noise would certainly make getting wins in these matchups much more attainable.
Kirk Cousins hasn't exactly been one of the most successful quarterbacks on the road during his career, so not having an opposing crowd to make his ears bleed could potentially result in him having one of his best NFL seasons ever.
There's still a lot of time until the Vikings' 2020 season is expected to begin and there's still a chance that fans could attend every game inside U.S. Bank Stadium like normal. But if they can't, Minnesota and a number of other teams around the league are going to be losing out on a big advantage that their home crowd usually provides.
Make sure to subscribe to Bleeding Purple (Apple – Spotify) for the latest takes on what's happening in the world of the Vikings and for interviews with current and former Minnesota players.