Vikings reveal if fans will be allowed to attend games this season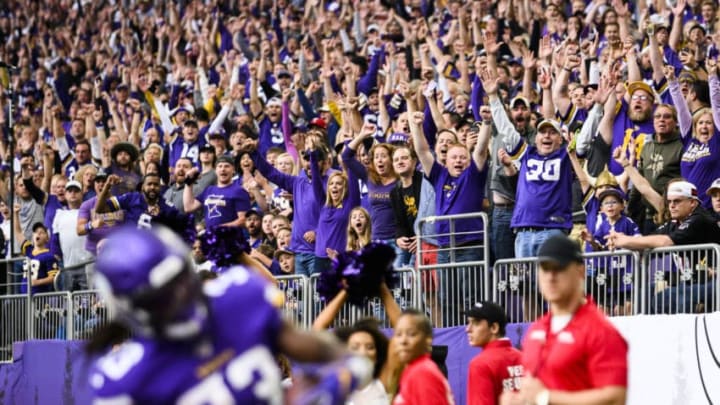 (Photo by Stephen Maturen/Getty Images) /
The Minnesota Vikings want at least some fans in attendance this season.
Since the building opened in 2016, U.S. Bank Stadium has been the ultimate home-field advantage for the Minnesota Vikings.
During the last four seasons (including the playoffs), the Vikings' home winning percentage (.727) is second only to the New England Patriots. Minnesota is also tied for the second-fewest home losses in the NFL (nine) during the last four years as well.
Having an indoor stadium full of rowdy fans has proven to be a great advantage for the Vikings during the last few seasons. Due to the COVID-19 pandemic, however, Minnesota's home-field advantage might be non-existent this year.
No fans allowed for the first two Minnesota Vikings home games
On Tuesday, the Vikings revealed that for their first two matchups inside U.S. Bank Stadium this season against the Green Bay Packers (September 13) and Tennessee Titans (September 27), there will be no fans in the stands.
That's the bad news. But the optimistic part of Minnesota's announcement on Tuesday is that the team says they still have the, "hope of bringing fans back in a safe manner later this season."
With the Vikings home-opener coming against a division rival in the Packers, it's pretty disappointing that there won't be a sea of purple and gold screaming at the top of their lungs in attendance for this matchup. It's quite possible that Green Bay could have fans in attendance for their second game against Minnesota this season on November 1 at Lambeau Field.
Vikings head coach Mike Zimmer has recently commented on his team not having fans in attendance for home matchups this season and, unsurprisingly, it's not something he's thrilled about.
It's also a bit puzzling why the NFL is allowing each team to come up with their own attendance policy. It's certainly something that can offer a competitive advantage for one team over another, so why not make a league-wide policy that puts everyone on an even playing field?
Obviously, each state has its own rules for public gatherings during the current COVID-19 pandemic. Which makes the NFL's decision to let teams create their own attendance policy even more strange since there are some organizations that don't even have the option to allow fans in their venues.
Since the league decided to not implement a league-wide attendance policy, Minnesota will be playing in front of no fans in Week 1, up to 25 percent of a stadium filled in Week 2 on the road against the Indianapolis Colts, no fans in Week 3, and fans being allowed to attend the team's Week 4 matchup at the Houston Texans is still something that has yet to be determined.
Seems pretty fair for the Vikings, right?