Fans could be allowed to attend Vikings games very soon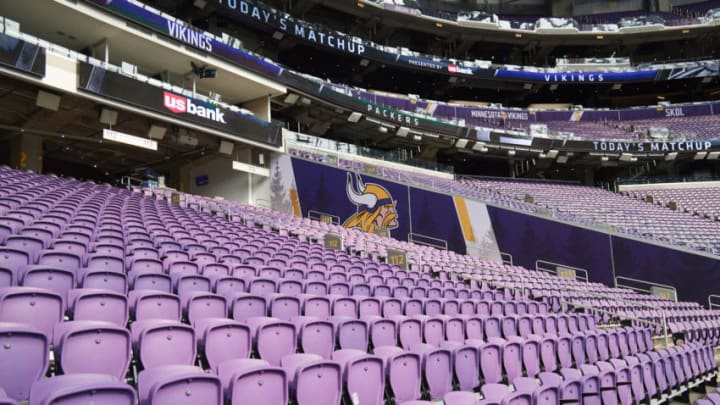 (Photo by Hannah Foslien/Getty Images) /
The Minnesota Vikings could have fans back inside U.S. Bank Stadium this season.
Among the numerous ways in which the NFL has been affected by the COVID-19 pandemic, teams permitting fans from attending games is something that has had a tremendous impact on the results of each week's matchups. Especially for a team like the Minnesota Vikings.
In Week 1, the Vikings had zero fans in attendance during their loss to the Green Bay Packers inside U.S. Bank Stadium. On Sunday, Minnesota allowed 250 staff members and their families to attend their matchup against the Tennessee Titans, but their presence in the stands wasn't enough to create any sort of home-field advantage.
However, the Vikings allowed these staff members to come to the game in order to test out some of their in-stadium protocols to see if they could potentially handle a larger crowd later this season.
Minnesota Vikings eyeing a specific date to allow fans again
Sunday's game against the Titans was Minnesota's last home contest until they face the Atlanta Falcons in Week 6.
According to a recent report from the Pioneer Press' Chris Tomasson, that matchup with the Falcons is when the Vikings are hoping to allow some fans inside U.S. Bank Stadium.
Minnesota isn't expected to allow a high number of fans to attend their game against Atlanta, but the amount the team will allow could increase in the future.
Unfortunately for the Vikings, having a small number of fans in the stands still isn't going to create much of a home-field advantage. Minnesota using the crowd inside U.S. Bank Stadium as a weapon for their opponents likely isn't going to happen for the rest of the season.
At the same time, this is good news for Vikings fans who enjoy seeing their favorite team live and in person. Whenever they do allow people back in the stands, it will definitely be a totally different experience for anyone who has attended a Minnesota game in the past.