Will the Vikings have to forfeit their next game due to COVID-19?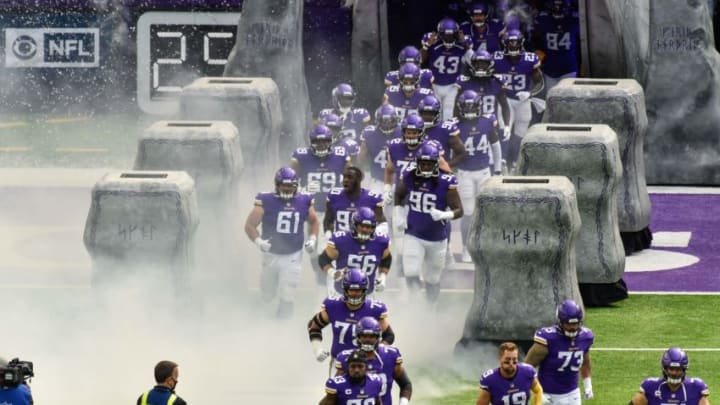 (Photo by Jeffrey Becker-USA TODAY Sports) /
The Minnesota Vikings just played a team that had multiple players test positive for COVID-19.
As if the current season hasn't already been crazy enough for the Minnesota Vikings, the team was forced to shut down their facilities on Tuesday after it was revealed that their previous opponent, the Tennessee Titans, had three players and five staff members test positive for COVID-19.
The Vikings have also decided to keep their facilities closed on Wednesday while they gather more information and wait to receive their latest COVID-19 test results.
As for the Titans, they've shut down their facilities until Saturday, meaning they will have to hold all of their team meetings remotely and they won't be able to have multiple practices before Sunday when they take on the Pittsburgh Steelers.
What's next for the Minnesota Vikings?
As of Tuesday, Minnesota hasn't had any of their players of staff members recently test positive for COVID-19 according to multiple reports.
One can imagine the team will be monitoring the situation very closely though since one of the Tennessee players who tested positive for COVID-19, defensive tackle DaQuan Jones, was on the field for 51 snaps during Sunday's game against the Vikings. Jones tackled two Minnesota players in Week 4, Dalvin Cook and Alexander Mattison.
Following the news of the Titans outbreak, the NFL still has the intention for both Tennessee and Minnesota to play their upcoming matchups in Week 4 according to ESPN's Adam Schefter. So even if the Vikings don't get to practice for the remainder of the week, they still might be forced to face the Houston Texans this weekend.
So right now, Minnesota's Week 4 game will be played as scheduled. Things could certainly change, however, if any of the Vikings players or staff end up testing positive for COVID-19 during the next few days.
If this happens, the league would likely look to reschedule Minnesota's matchup with the Texans first. If they are unable to reschedule the contest, there are two things that could potentially happen.
Either the Vikings are forced to forfeit (which the team would likely argue against) or the NFL cancels the game completely and the final 2020 standings are decided by winning percentage.
During this year's Major League Baseball season, games had to be canceled due to COVID-19 outbreaks and the league was forced to have playoff spots decided by a team's final winning percentage. This is something the NFL might have to do this year as well if they end up having to cancel multiple matchups due to COVID-19.
For now, we'll all just have to wait and see what happens next just like Minnesota and the rest of the league.