Minnesota Vikings Unsung Heroes: Week 9 vs. the Detroit Lions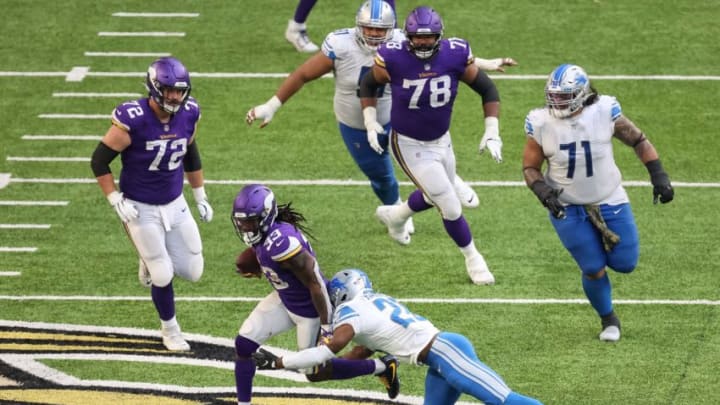 (Photo by Harrison Barden-USA TODAY Sports) Dalvin Cook /
(Photo by Harrison Barden-USA TODAY Sports) Dalvin Cook /
Offensive Unsung Hero from Week 9:
Ezra Cleveland – RG
The Vikings originally drafted Ezra Cleveland to be the future at left tackle, but he has been very impressive in his new role on the interior. He slid into the right guard spot in Week 6 against the Atlanta Falcons and he has now put up two strong performances in that spot.
It is not a coincidence that Dalvin Cook has had two of the best games in his career over the past two weeks Cleveland in the lineup. The arrival of the rookie blocker has given Minnesota consistent play in the interior of the offensive line and it has opened plenty of rushing lanes for Cook.
Whether Cleveland will stick at right guard for the future or not is uncertain. The Vikings may be smart to leave him there though if his current level of play continues. With him on the field, Cook and Alexander Mattison have had clean holes to attack while Kirk Cousins hasn't been facing immediate pressure in the pocket.
Cleveland has been phenomenal at right guard and Minnesota's offense has taken off because of that. The rookie should give fans some hope for the future of the Vikings offensive line, which is a nice bonus in addition to the divisional win on Sunday.