Minnesota Vikings Unsung Hero: Week 11 vs. the Dallas Cowboys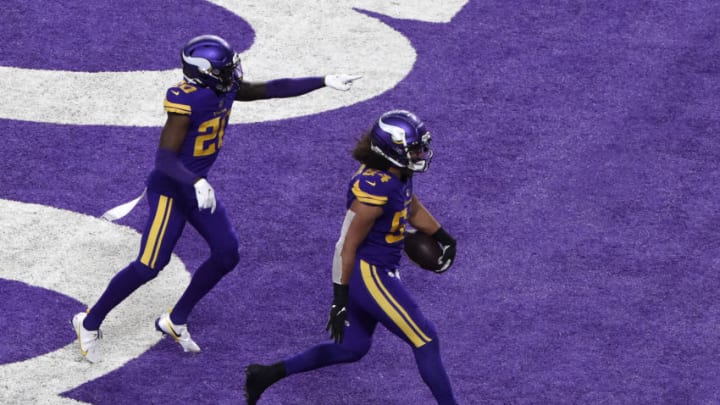 (Photo by Stephen Maturen/Getty Images) Eric Kendricks /
The Minnesota Vikings suffered a heart-breaking loss in Week 11 to the Dallas Cowboys.
After riding momentum, the Minnesota Vikings took a step back and suffered a tough loss to the Dallas Cowboys in Week 11. With Andy Dalton leading the way, Dallas came into Minnesota and handed the Vikings their first loss in over a month.
The offense played well for Minnesota, once again, as Dalvin Cook surpassed 100 yards rushing and Kirk Cousins threw for over 300 yards with three touchdowns. Adam Thielen and Justin Jefferson continued to make plays on the outside, but it just was not enough.
Minnesota's defense could not defend the run, which opened the door for the Dallas offense to make big plays all over the place. CeeDee Lamb was a nightmare on offense and on special teams while Ezekiel Elliott and Tony Pollard carried the ball effectively. A late score from the Cowboys gave them the lead and the Vikings offense stalled out on its final possession.
Minnesota Vikings All-Pro linebacker shines once again
Even in a tough loss, however, we must look at the Vikings players who deserve credit for their performance. Offensively, it was much of the same for Minnesota. The same group of guys made plays while the offensive line took a step back with Ezra Cleveland missing the game due to an injury.
There were truly no unsung heroes on the offensive side for the Vikings this week. Cook, Thielen, Cousins, and Jefferson were the only players who made a sizeable impact. Defensively though, one Minnesota player deserves respect around the league, not just from Vikings fans.
Eric Kendricks has been playing out of his mind this season. Minnesota has been playing so many reserves and rookies on the defensive side that it has gotten hard to count. But even through change, Kendricks is leading the Vikings defense in the right direction and making enormous plays each and every week.
In Week 11, Kendricks came up with a huge interception as the Cowboys were driving down the field. He is arguably the best coverage guy on Minnesota's roster, and that is not just among the linebackers. Kendricks is consistently asked to carry routes down the field and he does a phenomenal job.
Kendricks is easily one of the three best linebackers in the NFL, but he does not get national recognition. The All-Pro linebacker does not get mentioned much around the media, but those around the league have at least noticed his game.
In a week where the Vikings had issues at cornerback and the defense gave up far too many points, Kendricks was the only bright spot.