Vikings Power Rankings: Did Minnesota improve after Week 13 nail-biter?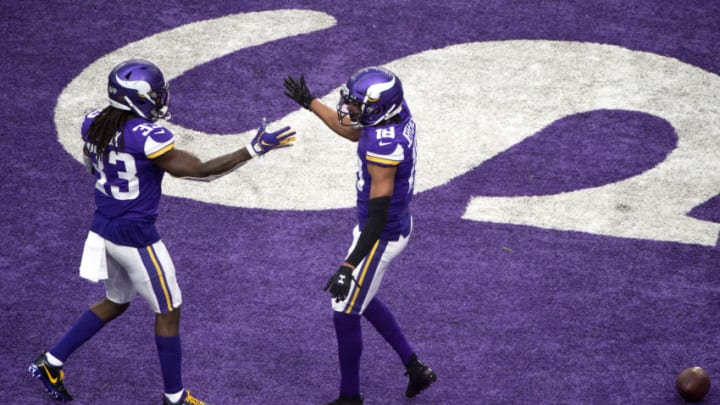 (Photo by Stephen Maturen/Getty Images) Justin Jefferson and Dalvin Cook /
(Photo by Brace Hemmelgarn-USA TODAY Sports) Adam Thielen /
Vikings power rankings heading into Week 14
Last week's power rankings found the Vikings move up a bit and tighten up the range of spots where experts placed the team. This week, it's hard to know how they will respond to the effort put forth by Minnesota in Week 13.
It would be understandable to see the Vikings dip considering they struggled against a one-win Jaguars team. But it could be seen as overcoming mistakes and finding a way to get a victory no matter what, which might impress them.
Here is where the experts have Minnesota heading into Week 14.
19th (↓3)
"Although the Vikings won Sunday, it was the second week in a row that they had to come back against a lesser opponent." – B/R NFL Staff
20th (↓1)
"Yes, they've moved into the NFC's final wild-card position, but Vikes hardly look formidable." – USA Today's Nate Davis
17th (↑1)
"Cousins has an opportunity to prove he can win important games against top NFC talent." – ESPN's Courtney Cronin
19th (↓4)
"Winners of five of their last six games, this matchup against Tampa Bay feels monumental." – SI's Conor Orr
15th (↑2)
"Their offense needs to clean up mistakes because the defensive issues leave them little margin for error." – Sporting News' Vinnie Iyer
16th (no change)
"Not bad for a team that was left for dead at 1-5 in October."  – NFL.com's Dan Hanzus
15th (↑1)
"Anquan Boldin had 1,377 yards as a rookie, an NFL record. Justin Jefferson is on pace for 1,335 yards." – Yahoo Sports' Frank Schwab
14th (↑2)
"Kirk Cousins threw a bad interception, but overall, he has played very well of late." – Pro Football Network's Matt Williamson
14th (↑1)
"The hornheads recently have a horseshoe up their butts." – ProFootballTalk's Mike Florio
18th (no change)
"It wasn't pretty against the Jaguars, but a win is a win." – CBS Sports' Pete Prisco
This was a strange week for the averages when it comes to placement. Despite a majority of experts moving the Vikings up in their rankings, the overall average spot went down from 16.6 to 16.7. The reason for this is because Gary Grambling from SI took the week off and we used Conor Orr's ratings instead. Orr had Minnesota much lower on his list, skewing the data.
On the other hand, the most popular place to find the Vikings in these rankings was spread among three spots, with two experts each placing Minnesota in 14th, 15th, and 19th, once again proving there is no common ground among most of these power rankings this far into the season.
Seeing the expert thoughts on the Vikings diversify also caused the range of placement to be absolutely batty. This week, the purple and gold were between 14 and 20, a range of seven spots compared to five for last week. It proves there is still absolutely no consensus on whether they believe in Minnesota or not.