Vikings Power Rankings: How far did Minnesota fall after Week 15?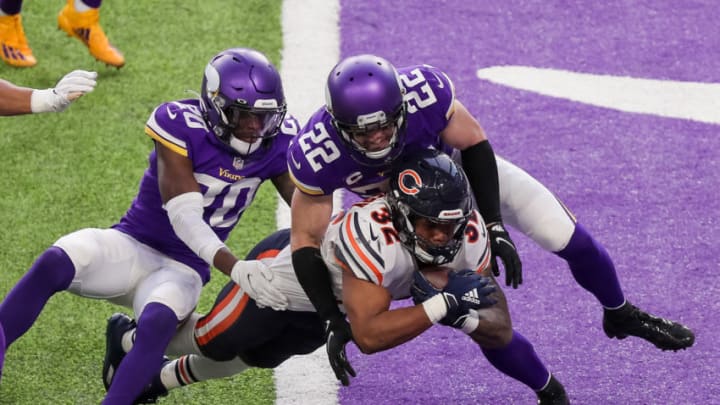 (Photo by Brad Rempel-USA TODAY Sports) /
(Photo by Brad Rempel-USA TODAY Sports) Dalvin Cook /
Vikings power rankings heading into Week 16
Last week's power rankings saw the Vikings tumble a bit, but not a lot. Their loss to the Tampa Bay Buccaneers didn't see them fall too far, but then again it didn't put a nail in the coffin of Minnesota's playoff hopes either.
This week is a bit different. After their loss to the Chicago Bears, now the Vikings are sitting quite far outside the playoff picture, and the team's focus should be on the offseason and NFL Draft instead of the extremely slim chance they can slide in the backdoor of the postseason.
Here is where the NFL experts have Minnesota ranked heading into Week 16.
21st (↓1)
"The Minnesota Vikings are done. Or to be completely accurate, they're 97 percent done." – B/R NFL Staff
19th (No change)
"They've scored at least 23 points in six of their eight defeats – just not a stat you'd expect from a team coached by Mike Zimmer." – USA Today's Nate Davis
18th (↓2)
"The interior of the Vikings' offensive line is where most of the team's pass-protection issues lie, not with the tackles." – ESPN's Courtney Cronin
17th (↓1)
"The Vikings have been playing with fire all year, playing from behind. They got burned this time around." – SI's Albert Breer
17th (↓1)
"Looks like they will be joining the 49ers and Eagles in missing out on a playoff return." – Sporting News' Vinnie Iyer
20th (↓3)
"The midseason resurgence is ancient history now." – NFL.com's Dan Hanzus
16th (↓1)
"The Vikings' playoff hopes aren't dead, but they'd need a miracle to get in after two straight losses." – Yahoo Sports' Frank Schwab
19th (↓4)
"It was a very bad outing for Minnesota's defense that allowed the Bears to run for 199 yards." – Pro Football Network's Matt Williamson
16th (↓1)
"When will 'just good enough' no longer be good enough for the Wilfs?" – ProFootballTalk's Mike Florio
19th (no change)
"All the changes and the moves to more of a younger team have caught up with them." – CBS Sports' Pete Prisco
Last week, the Vikings only slid a 10th of a spot after losing to the Bucs, landing them at an average placement of16.8. This loss to the Bears was not as kind as Minnesota dove 1.4 spots to an average of 18.2.
The most common place where experts ranked the Vikings last week was 15th. Interestingly enough, there wasn't a single 15th place nod for Minnesota in the entirety of this week's power rankings. Instead, the most popular spot this week was 19, down four spots from last week.
Finally, the range of spots where fans could find the Vikings stayed at six, but the high and the low each shifted down one spot. It went from between 15 and 20 last week to between 16 and 21, which is definitely a move in the wrong direction.