Justin Jefferson reveals top-five WRs of all-time, Jerry Rice not in top three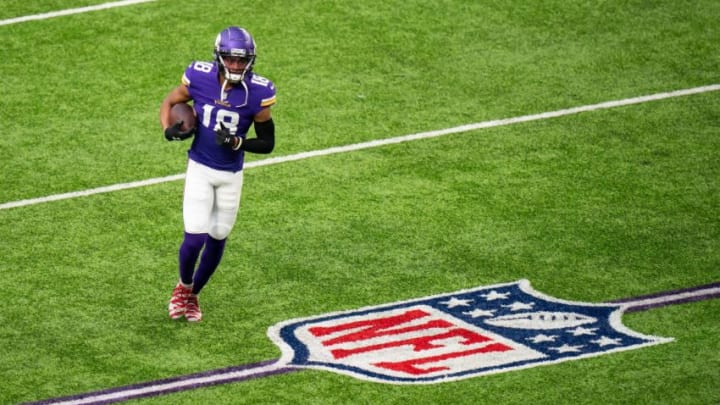 (Photo by Brad Rempel-USA TODAY Sports) Justin Jefferson /
With the numbers Justin Jefferson put up during his first season with the Minnesota Vikings, he already has a chance to end up as one of the greatest NFL wide receivers of all-time.
Of course, we are a long way away from that happening. But Jefferson's career is certainly off to a very impressive start.
The best thing to think about when it comes to the young Vikings receiver is that the chances are high that he hasn't even come close to reaching his full potential yet. With him breaking a bunch of records during his first year in the league, imagine what his career might look like with a few more seasons under his belt.
Justin Jefferson believes former Minnesota Vikings receiver is the best of all-time.
On the latest episode of "The Viking Age Podcast", I had the pleasure of talking with Jefferson for a few minutes about a variety of subjects. I closed the discussion by asking him who his top-five NFL wide receivers of all-time are and his selections might surprise a few people.
Jefferson selected former Vikings receiver Randy Moss as his No. 1 (the correct choice), then he went with former Detroit Lions pass-catcher Calvin Johnson at No. 2. Coming in at No. 3 in Jefferson's eyes is Terrell Owens, followed by Jerry Rice at No. 4, and Larry Fitzgerald at No. 5.
It's hard to argue with any of the guys he selected for his top-five. However, there are plenty of people who would probably disagree with the order he chose for these receivers, especially where he put Rice.
But we have to remember that Jefferson is still only 21-years-old. He wasn't even alive yet during Moss' magical rookie season with Minnesota back in 1998.
Jefferson's age definitely played a factor in the order that he selected for his top-five. But aside from that, all of the guys he chose are certainly worthy of being considered one of the five best wide receivers to ever play in the NFL.
Don't forget to subscribe to The Viking Age Podcast (Apple – Spotify – Google) for reactions to Vikings news and rumors in addition to interviews with current and former Minnesota players.