Vikings Rumors: Kirk Cousins expected to stay in Minnesota through 2022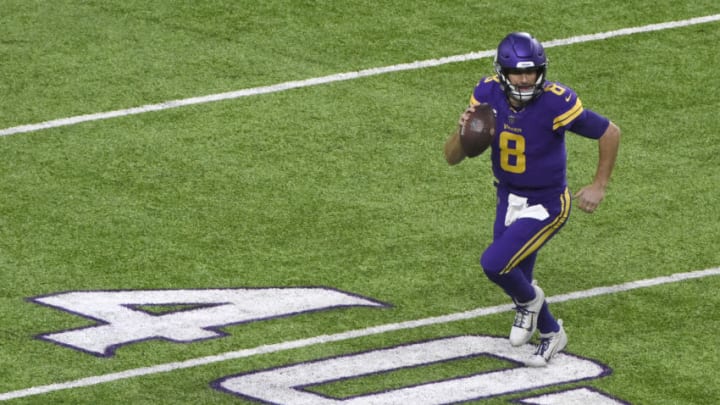 (Photo by Stephen Maturen/Getty Images) Kirk Cousins /
It doesn't sound like the Minnesota Vikings are looking to move on from Kirk Cousins anytime soon.
Despite Kirk Cousins putting up some of the best passing numbers in the history of the Minnesota Vikings during the last three seasons, there are still plenty of people that would like to see the team part ways with the quarterback sooner than later.
For some, it didn't matter that Minnesota's defense and special teams ranked near the bottom of the NFL in 2020. The majority of the blame for the team's struggles were still placed on Cousins' shoulders.
Since the conclusion of their season, there have already been plenty of rumors swirling about the quarterback's future with the Vikings. But there haven't been any actual reports from credible sources that Minnesota is listening to trade offers for Cousins this offseason.
Kirk Cousins expected to remain with Minnesota Vikings at least until 2023
While hoping the Vikings can land a game-changing quarterback like Deshaun Watson or they can select the future of the franchise in this year's NFL Draft is fun to dream about, neither of these scenarios is very realistic.
Minnesota's current selection in the draft (14th) probably isn't going to be high enough to grab one of this year's top quarterback prospects and Watson reportedly doesn't have any interest in being dealt to the Vikings.
Knowing this, it's not much of a surprise that The Athletic's Chad Graff recently shared that he believes Cousins will remain Minnesota's starting quarterback for the next two seasons.
Graff also added that one of his sources told him the Vikings haven't made a single phone call to any team about a possible trade involving Cousins.
So for those who have been hoping for Minnesota to at least begin the process of making a change at quarterback this year, it sounds like the team is going to focus on other priorities instead.
If the Vikings are going to stick with Cousins until at least 2023, they need to invest in some better protection for the quarterback this offseason. Cousins was one of the most-pressured passers in the NFL last season and Minnesota isn't going to have much success in the future if this issue doesn't get addressed.
It won't even matter who is playing quarterback for the Vikings in 2021 and 2022 if they have to continue to run for their life on every pass play.