This 2021 offseason grade for the Vikings is shockingly bad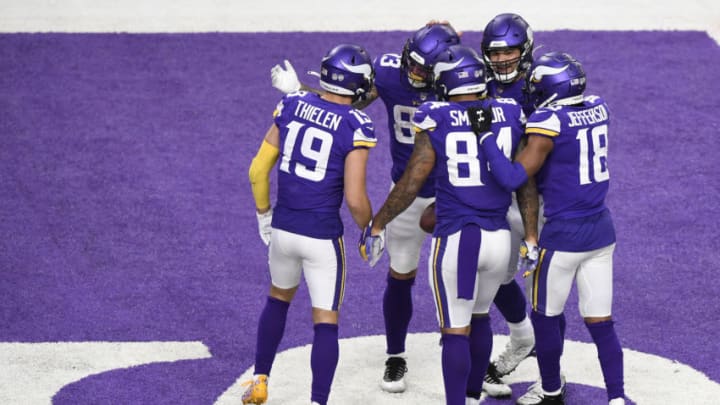 (Photo by Hannah Foslien/Getty Images) /
A recent evaluation of everything the Minnesota Vikings have done this offseason created more questions than answers.
With the 2021 NFL Draft now complete for the Minnesota Vikings and the rest of the league, evaluators have started to share how much they believe each team has improved or not improved this offseason.
This year, the Vikings have added a bunch of new faces that should be able to help them get back into the playoffs next season.
Guys like Patrick Peterson, Dalvin Tomlinson, Xavier Woods, Mackensie Alexander, Christian Darrisaw, and Wyatt Davis are viewed by most as significant additions to Minnesota's roster this year. However, not everyone agrees that the Vikings improved their roster during the last few months.
Minnesota Vikings given a laughable 2021 offseason grade
For those who are unsatisfied with the moves Minnesota has made during the 2021 offseason, some might give the team a grade somewhere around a B. Some might even think the Vikings deserve a B- for everything they've done to their roster during the last few months.
But it's hard to understand why someone would give Minnesota a C for the 2021 offseason, especially when the explanation for why doesn't even make sense.
This is the grade that self-proclaimed NFL Insider, Chad Forbes, recently gave the Vikings for the current offseason. Forbes shared why he settled on this grade for Minnesota and his reasoning is jaw-droppingly bad.
""Vikings ~ CPatrick Peterson contract made little sense. Dalvin Tomlinson great value, but shows team missed on Michael Pierce. Didn't retain Rudolph or upgrade interior OL. Don't see an improvement from 2020's 7-9 Team. Feels like end of Zimmer era is near…""
Alright, this is only a short paragraph, but there is a lot to unpack here.
First off, it's hard to understand how a one-year deal for Peterson makes "little sense"? The Vikings were looking to add more experience to their group of corners and Peterson's impact has the possibility of lasting for longer than just one season, even if he signs elsewhere in 2022.
Second, the team "missed," on Michael Pierce? Excuse me? Pierce opted out of the 2020 season due to health concerns about COVID-19. How in the world does that classify as a miss?
Let's see, next he implies that Minnesota parting ways with longtime tight end Kyle Rudolph was a bad decision. You mean the 31-year-old tight end who only caught 28 passes and one touchdown in 12 games last season?
Rudolph wasn't even the top tight end on Minnesota's roster last year and he was scheduled to have an obnoxious cap hit for 2021. So, of course, the Vikings said their goodbyes to him.
Last but not least, Forbes says Minnesota didn't upgrade the interior of their offensive line. Was he asleep during this year's NFL Draft? The Vikings just spent a third-round pick on former Ohio State guard Wyatt Davis (a two-time All-American) and most don't expect it to take long for him to crack the team's starting lineup next season.
Minnesota also improved the depth of their interior offensive line earlier this offseason when they acquired Mason Cole in a trade with the Arizona Cardinals. Cole isn't expected to be a future Hall-of-Famer, but he's better than trotting Dakota Dozier or Dru Samia out on the field to let them do their best impressions of Stevie Wonder.
If you're just sitting there full of confusion after reading this grade and explanation, you are far from being alone. Hopefully, Forbes stops using a dartboard for his future evaluations.