Cam Dantzler shares his reaction to Vikings benching him in Week 1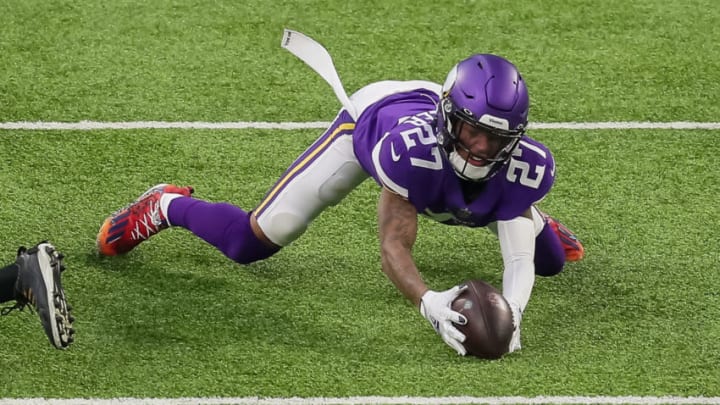 (Photo by Brad Rempel-USA TODAY Sports) Cameron Dantzler /
After starting 10 games as a rookie 2020, Minnesota Vikings cornerback Cameron Dantzler has only appeared in one of the team's two games this season.
When the Minnesota Vikings selected cornerback Cam Dantzler in the third round of the 2020 NFL Draft, most assumed he probably wasn't going to be a starter for the team's defense as a rookie.
But as Dantzler made more and more plays during summer training camp practices, he eventually wound up earning a spot on Minnesota's starting defense for the team's 2020 regular-season opener against the Green Bay Packers.
He went on to start 10 games for the Vikings last year and he was expected to be a factor for the team's defense this season. But when he was a healthy scratch for Minnesota's Week 1 contest with the Cincinnati Bengals, several questions about Dantzler's future with the team started to emerge.
Cam Dantzler says being benched by the Minnesota Vikings was a surprise
On Thursday, Dantzler spent a few minutes of his time to speak to the local Twin Cities media. When asked about his reaction to being inactive in Week 1, he gave an answer that should please his teammates and coaches.
""It was quite a surprise. But I felt like they humbled me and made me hungry. [So I] came to practice each day and worked harder so that won't ever happen again.""
That's all one can ask for from a player that is put in a situation like this. Complaining isn't going to do anyone any good, and Dantzler realized that. So all he's doing now is making sure he never gives the Vikings a reason to bench him ever again.
Dantzler was also asked about some recent comments from Minnesota head coach Mike Zimmer about how the young corner has to play special teams if he wants to get on the field. For the second-year defensive back, he said doesn't have a problem with doing whatever his coaches want him to do.
""I'm willing to [play special teams]. I'm up for the challenge. Whatever I have to do to play. If that's holding a field goal, I would do that. Just to do whatever to help the team win.""
The Vikings coaching staff should be very happy with how Dantzler has responded to his benching. Not every player his age (23) would be okay with starting 10 games as a rookie and then switching to more of a reserve role on the defense in their second season.
Dantzler still has plenty of time to get himself back in the starting lineup for Minnesota. With the top three corners on the Vikings' current cornerback depth chart all signed to one-year deals, there's a decent chance he will open the 2022 season as a starter.
Until then, all he can do is work on his development and be ready for whenever Minnesota needs him to make a play. Just like he did against the Arizona Cardinals last week.