A day in the life of a Minnesota Vikings fan at an away game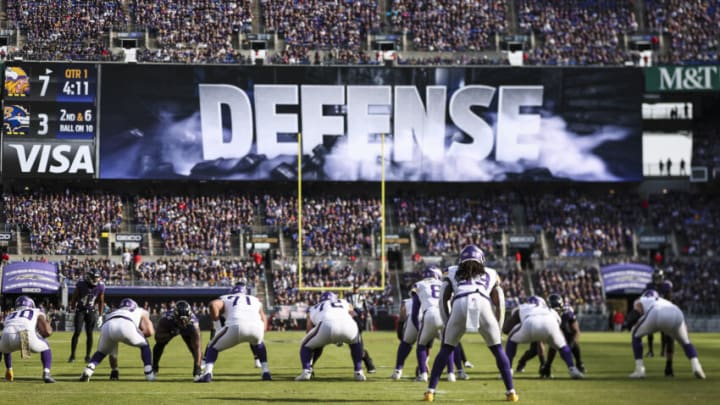 (Photo by Scott Taetsch/Getty Images) /
It is a different ball game as a Minnesota Vikings fan at an away game, but it is that type of community which the NFL fosters that makes it so attractive. 
Growing up in the midwest, Ryan Hellem was born a fan of the Minnesota Vikings.
This was long before he became the principal at Resurrection St. Paul high school, a Catholic inter-parish school just outside the city of Baltimore, Maryland in the town of Ellicott City. Before Ryan met his fiancee, Christina, his first love, like many of us who wear purple on Sundays, was the Vikings.
Ryan and Christina broke bread with my family on Sunday at a nearby schoolyard outside of M&T Bank Stadium in Baltimore. We shared stories, laughs, and painful memories. We caught up like old times, with Ryan catching me up on his career and me reciprocating the update.
Our paths had never crossed before 11:30 a.m. on that Sunday before the game. We were strangers.
The Minnesota Vikings brought us together
Had it not been for pre-game parking chaos and the Vikings playing the Baltimore Ravens, there would have been no reason for us to end up parking at that schoolyard.
The Hellem's and the Pfisterer's would have never crossed paths. It did not matter that he grew up near Lincoln, Nebraska and I grew up in Utica, New York, we each were there with the same ambition and same goals — just the same as everyone else wearing a Vikings Jersey in the stands and on the sidelines.
It was a perfect fall day, one where you could wear your favorite jersey without being too cold to need a jacket that would cover it up. The sky was an endless shade of blue, without any clouds masking its abundance. It was the tail end of peak fall where the leaves gave that satisfying crunch after being stepped on. The best part of it all was that everyone was going to a football game. We were all going to cheer on our Vikings.
While Ryan and I drank and ate reminiscing heart-breaking loss over heart-breaking loss at my family's tailgate, I could not help but think how this complete stranger walked over to eat and drink with us, and how much we all embraced it.
"There is strength in numbers," he would continue to say, and he was right. Football is a numbers game. Being a fan at an away game is no different.
11:30 a.m. – 1.5 hours before kickoff
Ryan, Christina, my girlfriend, Sheila, and my parents all are preparing in the schoolyard for the game just as Minnesota is prepared to take on the Ravens.
Ryan told me all about what it was like growing up in the midwest rooting for the Vikings, and how he so vividly remembers moments like the 1998 NFC Championship (my dad would one-up him by responding with the fact he watched the Vikings lose all four of their Super Bowls in the 1970s). It interests me to hear what life is like in Vikings country, being that I grew up about 2,000-miles away from Minnesota.
12:30 p.m. – 30 minutes before kickoff
The march begins. We headed into the stadium playing a game that included yelling "SKOL!" at every Vikings Jersey we saw to see how many people would yell it back. We gave ourselves an over-under of 14 "SKOL" replies by the time we got to our seats.
We hit that number walking over the bridge outside the stadium, where local musicians were playing various instruments such as drums made of buckets flipped upside down and symbols on the ground. My favorite was a violinist hooked up to a speaker playing "Seven Nation Army," By The White Stripes.
12:45 p.m. – 15-minutes before kickoff
A tragic goodbye. Ryan and I went our separate ways to our seats. The smell of cold beer and warm popcorn had me floating into the stadium as if the scent was beckoning me cartoon-style. It's been two years since I've put pads on, but walking into a stadium will always get my blood pumping.
Before going to my seat, I ran into a group of Vikings fans (and of course kept the SKOL game going). After introducing myself as a writer for The Viking Age, the classy, well-dressed gentlemen I ran into acknowledged our site and told me they were avid readers. I felt like Peter King.
To go to my seat, I walked five flights of stairs and turned around to see my parents with their hands on their knees. I'm as out of shape as I have ever been in my life, but I did not even take a breath going up those stairs.
1 p.m. – Kickoff/First Quarter
I bought these tickets back in May. We had the furthest back seats in the stadium. Our backs were literally up against the wall. My head was literally in the clouds (I think I saw Jordan Love's mother in the row across from me).
I personally prefer the nosebleed seats because it is like watching the all-22 film of the game in real-time. I like seeing the safeties rotate and watching the play unfold in real-time. You see angles that you would miss in a traditional broadcast and even sitting close to the sidelines.
I had been briefed on Ravens fans prior to the game. That they would get on opposing fans, heckling them and even being aggressive. However, I am a seasoned vet when it comes to heckling, I was at the 2017 NFC Championship in Philadelphia fighting for my life (plus, how could you possibly hurt a Vikings fan? We are all numb at this point).
That being said, the Ravens fans were some of the nicest opposing fans I had ever been around. I don't know if the purple just blended in, but Baltimore fans are some of the most welcoming in the NFL. That is a unique trait when attending a game as an opposing fan.
Second Quarter
I can't believe my eyes. The Vikings, who were seven-point underdogs going into the game, are currently winning 17-3 with time running down in the second quarter. The funny thing about being an opposing fan at an NFL game is that none of the event staff want your team to win. Every graphic is designed to annoy opposing fans and generate excitement for the home fans in an attempt to create momentum for the home team.
The Ravens would end up taking momentum into the half on a Lamar Jackson touchdown pass to running back Devonta Freeman with 20-seconds to go before halftime. 17-10 Vikings. I'll take it.
Halftime
Time to load up on more popcorn and nachos. It was my turn to grab the food which came at a costly price. Great minds do think alike, and with 70,000 minds in the stadium, some were bound to think alike (although they all may not have been great).
While I waited in line to get our snacks, I heard the cheers from the crowd and some disappointing moans to partner with the colorful language followed shortly thereafter. I had missed Vikings rookie running back Kene Nwangwu's 98-yard kickoff return touchdown to start the half. 24-10 Vikings. Somebody pinch me.
Third Quarter
I nearly bite my finger mindlessly shoving popcorn into my mouth like some sort of cattle grazing. Part of this is due to the fact that I am watching this lead unravel before my very eyes. Classic Vikings. Or is it?
Maybe they've turned it around. There is no way they could lose ANOTHER game this way, right? RIGHT?! Lamar takes the Ravens all the way down the field following the kickoff return touchdown and finds Patrick Ricard for a one-yard touchdown pass. 24-17 Vikings. Gulp.
Fourth Quarter
Here we go. A Devin Duvernay touchdown reception from Jackson ties the game and Minnesota's offense continues to stall in the second half. After the 50-yard touchdown pass to Justin Jefferson in the first quarter, the ball rarely traveled downfield for the Vikings.
Their deepest play in the second half came on a 27-yard reception by fullback C.J. Ham down the sideline. A Le'Veon Bell touchdown run with 3:30 to go in the game put the Ravens up by seven and I tried to find a happy place.
Minnesota's defense had no answer for Baltimore's offense in the second half. I watched the Ford motors ad for "move the chains" every time the Ravens got a first down what seemed like 100-times in the second half. Part of me wished I knew where the off-switch was for the jumbotron.
With a minute left in the game, Kirk Cousins found Ol' Reliable Adam Thielen in the corner of the end zone to tie the game. My mother and girlfriend were all too excited to watch some "free football" as the sun began to set on the Baltimore skyline. 31-31 heading into overtime.
Overtime
What I did not realize throughout the course of the day is that the sun would serve as a metaphor for the Vikings and their fans. The sun was as high in the sky as our hopes were to beat the Ravens for the majority of the game.
As it sank, so did Minnesota's chances of winning. The entire sky was eventually lit up in shades of pink and purple, almost to somewhat mock the Vikings as they let their lead slip away.
The Anthony Barr interception on Jackson would have been the play of the game if Minnesota did not go 3-and-out immediately after. It was almost as if Klint Kubiak's youthfulness as a play-caller was not meant for these big situations. On a crucial drive in overtime, Mike Zimmer's defense had too many men on the field, a junior-varsity mistake.
As Justin Tucker sailed the game-winning kick through the uprights for Baltimore, all the Vikings fans in the stands let out one last breath. Partly due to the soul-crushing defeat, but also due to the fact that they knew if the roles were reversed that the kick was probably sailing wide right, because you know, Vikings kickers.
At this point, Ryan Hellem is long gone from the stadium. I had Ravens fans actually coming up to me and consoling me for the loss. Minnesota fans slowly walked back to their cars trying to make sense of how the team could snatch defeat from the jaws of victory again.
It is not easy to be an opposing fan at an NFL game, but it is still a lot of fun. There is nothing like the ambiance of being at an NFL game. However, I have been a road warrior long enough.
My only wish is that I will be at U.S. Bank Stadium doing the SKOL chant someday with thousands of other Vikings fans, finally being a fan of the home team.