Teddy Bridgewater trash talks Jarvis Landry over Madden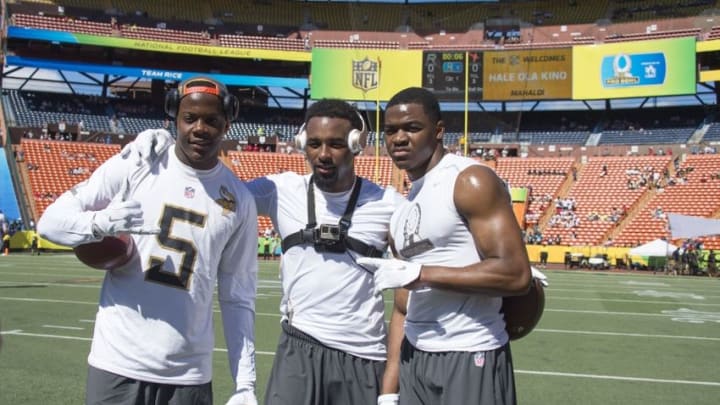 January 31, 2016; Honolulu, HI, USA; Team Irvin quarterback Teddy Bridgewater of the Minnesota Vikings (5), Team Rice wide receiver Jarvis Landry of the Miami Dolphins (14, center), and Team Rice wide receiver Amari Cooper of the Oakland Raiders (89, right) before the 2016 Pro Bowl game at Aloha Stadium. Mandatory Credit: Kyle Terada-USA TODAY Sports /
Teddy Bridgewater engaged in a little friendly Madden trash talk with Miami Dolphins WR Jarvis Landry.
Here's a story that will probably seem totally bewildering to any former NFL player born before 1970:
Saturday night, Vikings QB Teddy Bridgewater and Dolphins WR Jarvis Landry engaged in a bit of Twitter smack talk that had nothing to do with actual physical football.
Two NFL players taunting each other about their Madden video game skills over social media? The world definitely has changed.
Evidently Landry has been practicing for a future Madden session against Bridgewater in which he intends to beat the Vikings' QB using Bridgewater himself as his QB.
When you think about it, that is about the most diabolical thing imaginable.
Judging by Bridgewater's tweet, there has been at least one instance where he went to Landry's place and handed his butt to him at Madden.
Apparently Landry is out for Madden revenge against Bridgewater.
In actual real-life, non-video-game football, Bridgewater and Landry have squared off only once and Landry's Dolphins came out on the winning end.
All the way back in 2014 (seems a lifetime ago doesn't it?), the Dolphins beat the Vikes 37-35 in a thrilling game that ended on a fourth quarter blocked punt safety by Miami.
Next: 5 positions that could cause problems
Rookie Bridgewater had one of his best games of the 2014 season that day, posting a 114.1 passer rating while throwing two touchdown passes. Landry aided the Dolphins' effort by catching eight balls for 31 yards.
Since then, the Dolphins have floundered while the Vikings have progressed to become a playoff team.
Maybe this year the Dolphins can get into the playoffs and perhaps even advance to the Super Bowl. And maybe the Vikings too can get into the Super Bowl for the first time in a thousand years.
And if that happens, Teddy Bridgewater and Jarvis Landry will have something real to trash talk each other about over Twitter.