Minnesota Vikings: Dark cloud hangs over preseason finale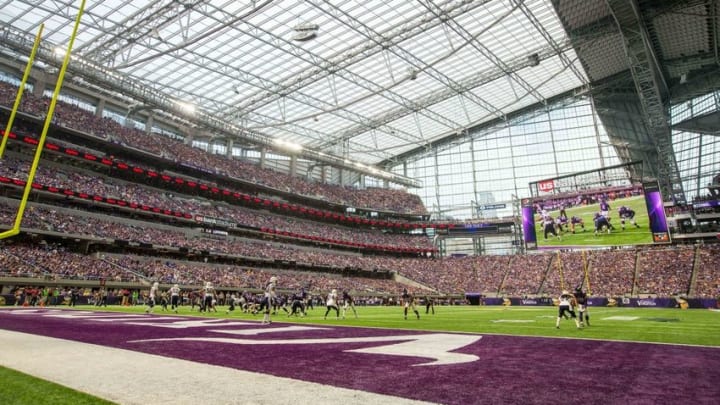 Aug 28, 2016; Minneapolis, MN, USA; A general view of U.S. Bank Stadium during the first quarter in a preseason game between the Minnesota Vikings and the San Diego Chargers at U.S. Bank Stadium. The Vikings won 23-10. Mandatory Credit: Brace Hemmelgarn-USA TODAY Sports /
The Minnesota Vikings end their preseason slate on Thursday night, but the game seems extra-pointless after Teddy Bridgewater's injury.
Preseason games never mean anything except to the handful of players battling for jobs. But Thursday night's preseason game feels more meaningless than most.
Don't feel bad if you want to skip tonight's game altogether. Who's in the mood for crummy preseason football so soon after Teddy Bridgewater's horrific practice field injury?
The Vikings' hopes for a Super Bowl run seemingly came to an end when Bridgewater's ACL snapped, causing dislocation of his upper and lower leg-bones.
Not to mention the personal ramifications for Bridgewater, by all accounts a delightful human being.
I know what Mike Zimmer would say: "The players still have to go out there and do their jobs."
That's true, and the players no-doubt will do their jobs. But with heavy hearts and distracted minds.
More from Minnesota Vikings News
Many fans who watch, either on TV or inside U.S. Bank Stadium, will experience a similar hollowness.
It's hard to get jacked up over the prospect of extended Joel Stave action in light of what has transpired.
The situations aren't exactly alike of course, but the current mood can't help but remind one of the pall that descended over the Vikings in the wake of Korey Stringer's death.
Stringer's tragic demise on the practice field seemed to knock all the starch out of the Vikings that year and they limped to a 5-11 season.
Bridgewater isn't dead of course, and he'll still be able to show up to games and root on his team, so in one way it's not really right to compare the present circumstances those that ensued after Stringer passed.
Nevertheless, one can't escape the feeling that right now football seems secondary.
Next: Michael Vick not the answer
It's hard to get too stoked over watching third-stringers battle third-stringers knowing that Teddy Bridgewater is not coming back this year.
It's always a little hard to find reasons to get excited about fourth preseason games, but this year it's almost impossible.
Don't blame your favorite Vikings fan if he/she decides to click off the set and turn in early. It's understandable.