Minnesota Vikings at Bills: C.J. Ham runs in 2 yard touchdown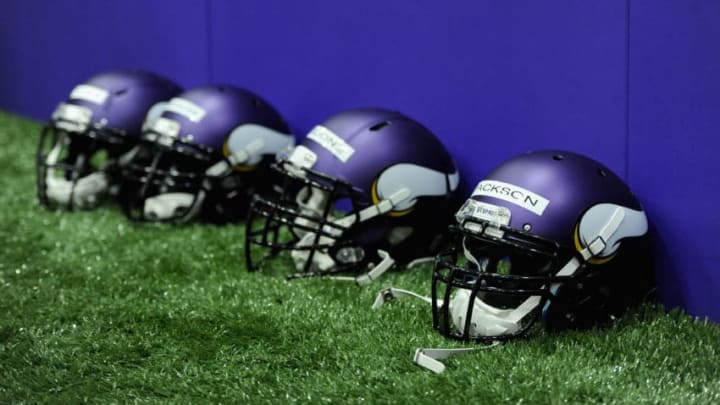 (Photo by Hannah Foslien/Getty Images) /
Duluth native C.J. Ham was the first to score a touchdown in the Minnesota Vikings first preseason game of the 2017 season against the Buffalo Bills.
The Minnesota Vikings struggled offensively during their first preseason game against the Buffalo Bills on Thursday, August 10, 2017, but the first touchdown of the game came from an unlikely player.
In the third quarter of action between the Vikings and Bills, Minnesota got set up by a great catch from rookie wide receiver Stacy Coley, putting the ball at the 2 yard line and the team in scoring territory.
Here is the touchdown play by Minnesota as shared on the official Twitter account of the Minnesota Vikings:
With the big guys on the field for Minnesota, quarterback Case Keenum handed the ball off to fullback C.J. Ham from 2 yards out.
Being hit outside the end zone, the big running back lowered his shoulder and powered through the defenders, fighting for extra yards. Eventually, Ham was able to break the plane of the end zone for six points.
This is one area where the Vikings struggled in a big way during the 2016 season, as they were often unable to convert on 3rd and short or at the goal line. Thankfully, the big linemen as well as the extra tight ends for blocking helped Ham get the necessary yardage.
Next: Tashawn Bower gets a big sack vs Bills
C.J. Ham is another player fighting for a spot on the 53 man roster of the Minnesota Vikings this season. After converting to fullback from halfback for the 2017 season, it looked like his days could be numbered for the franchise. However, the hard working young man continues to show plenty of great reasons why he could be a valuable asset to the team in the future.