Case Keenum is going to make a bunch of money in 2018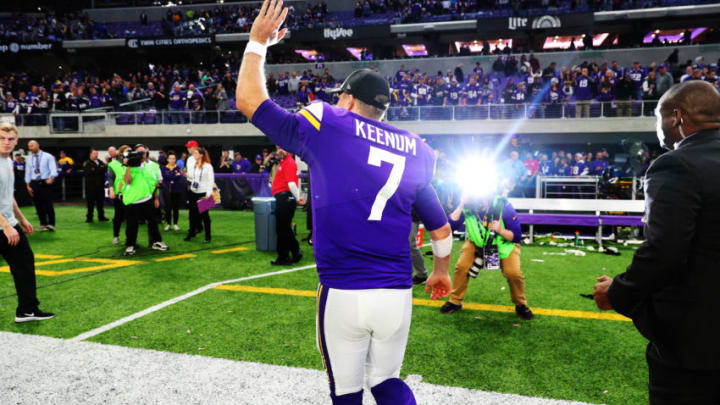 MINNEAPOLIS, MN - DECEMBER 17: Case Keenum /
The current Minnesota Vikings quarterback is scheduled to be a free-agent following the conclusion of the 2017 season and he should get some pretty lucrative offers.
Heading into the 2017 season, it seems highly unlikely that anyone predicted Case Keenum to have the year that he is currently experiencing. The Minnesota Vikings signed the quarterback in the offseason to a cheap, one-year deal to compete for the team's backup job behind Sam Bradford.
Well as usual, the Vikings' current season has not exactly gone according to plan. However, the team is still sitting with an 11-3 record, an NFC North division championship, and a spot in the upcoming NFC playoffs.
(Photo by Hannah Foslien/Getty Images) Case Keenum /
A bunch of Minnesota's success in 2017 has been due to the play of Mr. Case Keenum, who was inserted into the starting lineup just a game into the season after Bradford could not play due to a knee injury.
Since Keenum made his first start for the Vikings in Week 2 against the Pittsburgh Steelers, the quarterback has led the team to 10 wins while completing 67.9 percent of his passes for 3,219 yards (247.6 per game), 20 touchdowns, and just seven interceptions.
Minnesota Vikings /
Minnesota Vikings
He has even ran the ball 33 times this year for 162 yards and a score.
Based on the current season Keenum is having and the fact that he will be a free-agent after this year, the veteran quarterback will likely see a good chunk of money offered to him during the upcoming 2018 offseason. Whether that offer will come from Minnesota or another team remains to be seen.
But right now, Spotrac has Keenum's market value earning him a contract next season of around three years and $50 million with an average salary of about $16.8 million per year. Since he began his NFL career in 2012, the current Vikings quarterback has never made more than $3.7 million in a single season.
With the league always being full of teams in need of better quarterback play, Keenum should see some interest from a handful of teams including the Buffalo Bills, Washington Redskins, New York Jets, Denver Broncos, Arizona Cardinals, and Cleveland Browns.
Next: Vikings' Week 16 injury report
There is a chance that he could stay in Minnesota next season though too. That will be up to the team's front office, but if Keenum leads the Vikings to the franchise's first ever Super Bowl win this year, it is would be hard let him just walk out the door during the offseason.