Vikings fan Millie Wall gets Super Bowl 52 tickets from Roger Goodell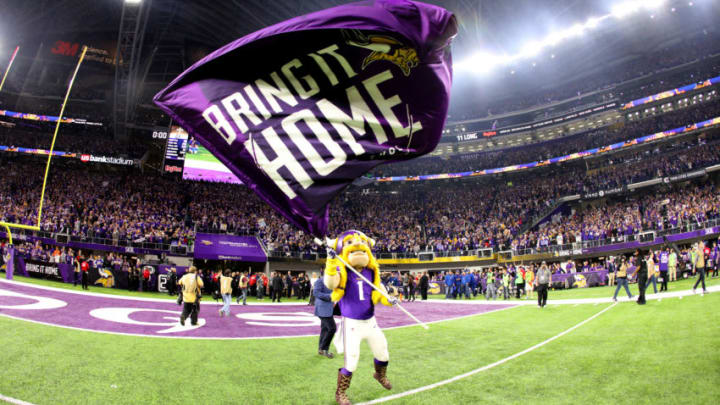 MINNEAPOLIS, MN - JANUARY 14: Minnesota Vikings mascot Viktor waves a flag reading 'Bring it home' after the Minnesota Vikings defeated the New Orleans Saints in the NFC Divisional Playoff game on January 14, 2018 at U.S. Bank Stadium in Minneapolis, Minnesota. (Photo by Adam Bettcher/Getty Images) /
Millie Wall may have been a good luck charm for the Minnesota Vikings against the Saints and now she'll be in attendance at the Super Bowl thanks to the NFL.
One of the best stories off the field for the Divisional Round of the NFL playoffs was the 100th birthday present the Minnesota Vikings gave Millie Wall. In an amazing video shared all around the internet, fans had their hearts warmed by the gesture.
Millie got to watch one of the most exciting games in NFL history thanks to the Vikings as Minnesota defeated the New Orleans Saints in dramatic fashion with a last-second touchdown to seal the game as the clock expired.
Check out Joe Buck talking about Mille being in attendance and a little of the story during the game broadcast on FOX.
Some Vikings fans think Millie might be a good luck charm and are saying the team should fly her to Philadelphia for the game against the Eagles. However, it was NFL Commissioner Roger Goodell who one-upped that idea by giving Millie a gift of his own.
During the game, Goodell went into the stands with the fans to meet Millie and welcome her to the game. During their chat, the Commissioner also surprised her with tickets to Super Bowl 52 in Minneapolis.
It is a great story to see Millie Wall getting so much love from the Vikings and the NFL. Her love for football is something that has been a lifelong passion for her, rooting on Minnesota since the franchise came into existence.
According to ESPN, Millie will turn 100 years old on July 4, 2018 and her granddaughter Ashley recounted just how optimistic her grandmother was even when things looked bad for Minnesota during the game.
""The coolest part about it was that, as all Vikings fans know, when we start to lose a lead, you lose hope, but she continued to have hope. She'd say, 'We're going to get this. We just need an interception. We're going to win this.' Hearing her be so hopeful, not a lot of Vikings fans can say that.""
Next: Cris Carter excited for Vikings chances
Hopefully, Millie Wall will be seated in U.S. Bank Stadium during Super Bowl 52 to watch the Minnesota Vikings play the representative from the AFC. However, the team will need to get past Philadelphia to make that happen.