Just how low are the Vikings playoff chances after their loss in Week 15?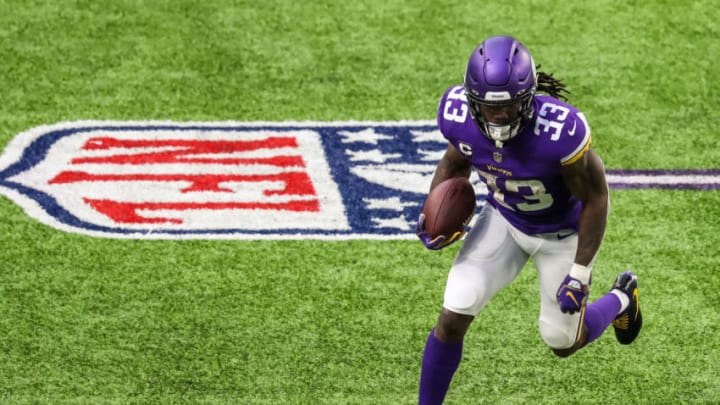 (Photo by Brace Hemmelgarn-USA TODAY Sports) Dalvin Cook /
The Minnesota Vikings have not been eliminated from playoff contention just yet.
Sunday didn't turn out how the Minnesota Vikings wanted. Making the playoffs had become a possibility for the Vikings after recovering from a terrible 1-5 start to the season, but then their postseason hopes were delivered a blow this week by the Chicago Bears.
In their second matchup of the year with the Bears, Minnesota failed to come away with a win, which saw their record fall to 6-8. The Vikings didn't catch any breaks in the NFC standings either as the Arizona Cardinals and Tampa Bay Buccaneers were both able to get victories on Sunday.
So with two games left on their 2020 schedule, Minnesota is currently the No. 9 seed in the NFC. If the Vikings are going to get into the playoffs, they're going to need some major help from the football gods.
Playoff chances for Minnesota Vikings dip below five percent after Sunday's loss
Thanks to the Cardinals and Bucs both winning, Minnesota's loss this week has their current playoff chances at two percent according to FiveThirtyEight.
This was covered on the latest episode of The Viking Age Podcast in addition to attempting to figure out what's next for the Vikings after losing to Chicago on Sunday.
There is really only one path to the postseason remaining for Minnesota and it requires multiple events to happen that are completely out of their control.
First, the Vikings will need to win both of their final two games against the New Orleans Saints and Detroit Lions. A win over a 5-9 Lions team seems very possible while Minnesota getting a victory against the 10-4 Saints will be much more difficult.
If the Vikings are somehow able to win both of these matchups, then they need two more things to happen. Arizona has to lose both of their final two games and the Bears need to lose at least one of their final two matchups.
The Cardinals are taking on a team in the San Francisco 49ers that they only defeated by four points in Week 1 and a Los Angeles Rams squad that Arizona got a three-point victory over in Week 12. Both of these divisional matchups will probably be close, so two losses for the Cardinals is something that cannot be ruled out.
As for Chicago, they get to face a 1-12 Jacksonville Jaguars team next week and then they end their season with a home matchup against the 11-3 Green Bay Packers. The Bears could potentially catch a break in Week 17 if the Packers have already clinched the top seed in the NFC and they decide to rest their players.
So yes, Lloyd Christmas, there is a chance Minnesota could still sneak into the postseason. But Vikings fans shouldn't be getting their hopes up.
Go ahead and subscribe to The Viking Age Podcast (Apple – Spotify – Google) for reactions to the latest Minnesota news and rumors, game previews, and interviews with current and former Vikings players.