Justin Jefferson defends Kirk Cousins, calls him a 'great quarterback'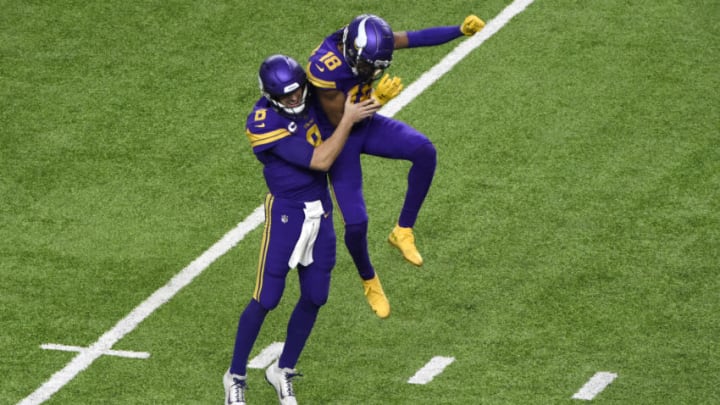 (Photo by Stephen Maturen/Getty Images) Kirk Cousins and Justin Jefferson /
During the 2020 season, few wide receivers played better than Minnesota Vikings rookie Justin Jefferson. In his first year with the Vikings, Jefferson broke multiple franchise and league records despite being the fifth receiver taken in the 2020 NFL Draft.
It's completely fair to say that Minnesota quarterback Kirk Cousins played an important part in the success that Jefferson experienced as a rookie.
If the Vikings had a quarterback starting under center with less talent than Cousins, there's a good chance that those records that were broken by the young receiver would have remained intact.
Justin Jefferson stands up for Minnesota Vikings quarterback Kirk Cousins
Thanks to his impressive 2020 campaign, Jefferson has been nominated as a finalist for the Pepsi Zero Sugar NFL Rookie of the Year award. If he is able to win the award, he would join Teddy Bridgewater, Percy Harvin, and Adrian Peterson as the fourth Minnesota rookie to earn the honor.
Jefferson is a smart guy and he knows that Cousins chucking him passes all over the field each week helped him become a finalist for this award. The Vikings rookie receiver spoke to The Viking Age on Tuesday and he talked about some of the things that impress him the most about his quarterback.
""A lot of people put a lot of shame on Kirk. Kirk is a great quarterback. He does whatever he needs to get the team going. He's never backed down from any fight and he fought this whole season.Even though he was getting a lot of criticism, he kept fighting, he kept doing his own thing, and he still ended up as one of the top quarterbacks this season.""
Jefferson clearly isn't afraid to defend Cousins from his haters. But the receiver probably scratches his head as many people do when they criticize a quarterback who just threw 35 touchdowns and more than 4,200 yards.
Cousins has been in the rumor mill lately and if he doesn't return to Minnesota for next season, it's possible that Jefferson could see his numbers head in the wrong direction.
But if the Vikings bring back their current starting quarterback for the 2021 campaign, there's a good chance that Jefferson could take another step closer to becoming one of the top current receivers in the NFL.