4 ways the Vikings can improve on offense in 2021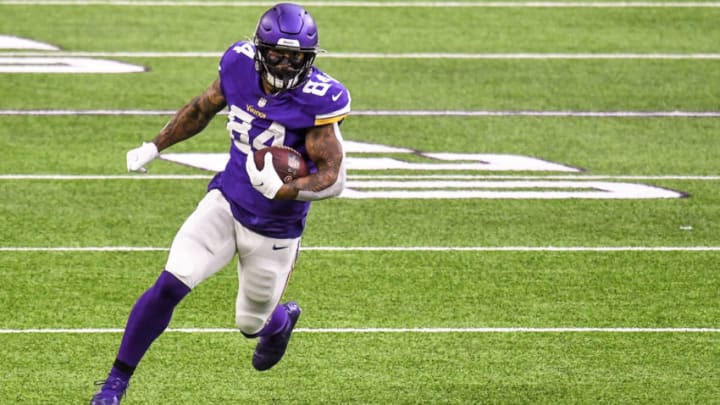 (Photo by Nick Wosika-USA TODAY Sports) Irv Smith Jr. /
(Photo by Richard Rodriguez/Getty Images) Klint Kubiak and Kirk Cousins /
How can the Minnesota Vikings improve on offense ahead of the 2021 season?
For probably the first time in the Mike Zimmer era, the Minnesota Vikings could not blame failing to reach the postseason on their offense.
Considering the unit lost coordinator Kevin Stefanski to the Cleveland Browns head coaching job and traded Stefon Diggs to the Buffalo Bills, the Vikings did a remarkable job of putting up some impressive numbers despite a disrupted offseason period thanks to the COVID-19 pandemic.
More big changes have been made to Minnesota's coaching staff this year, with Gary Kubiak retiring from the offensive coordinator role after just one season and the team replacing him with his son, Klint.
The promotion of the young Kubiak should enable some scheme continuity remains for Vikings quarterback Kirk Cousins following a 2020 season that started poorly, but ended with the signal-caller turning in an exceptional series of performances during the second half of the campaign.
The concerns surrounding Cousins were there for all to see before the bye week last season. But whatever adjustments were made during Minnesota's brief time away from competitive action seemed to do the trick.
The veteran quarterback's level of production rose considerably, which saw the Vikings emerge as surprise postseason candidates after a 1-5 start. Even though they faltered down the stretch, the normal scapegoat cannot take much of the blame considering Minnesota's clear deficiencies on defense.
However, nothing is perfect. So here are some ways the Vikings can improve from an offensive standpoint in 2021.
Way No. 1:
(Syndication: Wichita) Garrett Bradbury /
Improve interior protection
One of the main problems that continues to frustrate Minnesota is their interior protection. Garrett Bradbury has shown plenty of promise from the center spot in his two seasons with the Vikings. But the sooner they find two guards capable of producing the goods consistently, the better their chances will be.
Fortunately for Minnesota, the 2021 NFL Draft class is expected to be extremely deep for offensive linemen. The Vikings have a bounty of picks to utilize and they would be wise to address this need early despite not having a second-rounder following last year's ill-fated trade for Yannick Ngakoue.
Money is expected to be tight for Minnesota this offseason due to revenue losses caused by the COVID-19 restrictions. It's, therefore, vital that the Vikings find a couple of plug-and-play starters to put on the rotation alongside Ezra Cleveland, who could be a viable option as a guard with another offseason to develop.