NFL analyst makes extremely preposterous statement about the Packers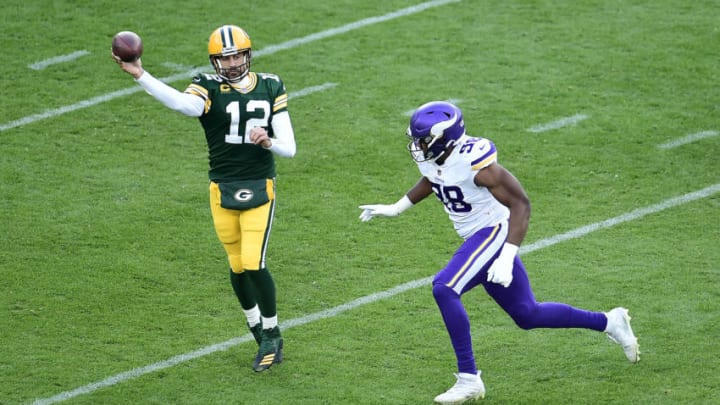 (Photo by Stacy Revere/Getty Images) Aaron Rodgers /
Apparently, fans of the Green Bay Packers deserve to see their team win a championship in 2021 more than those who root for the Minnesota Vikings.
Most would say this year's offseason has been pretty enjoyable for the Minnesota Vikings. Especially since their top rival in the NFC North, the Green Bay Packers, has been dealing with some major drama for the last few months.
The Packers still don't know if the reigning NFL MVP, Aaron Rodgers, is going to be the team's starting quarterback next season or not. And every additional day that passes without a decision from Rodgers causes the current sadness level of the Packers fan base to increase even more.
Apparently, the depressing offseason that Green Bay fans have been experiencing has caused some to feel bad for them. It's even resulted in some thinking that Packers fans now deserve to see their team win a Super Bowl in 2021 because of all of the stress they've been going through during the last few months.
NFL analyst believes Green Bay Packers deserve championship more than Minnesota Vikings in 2021
It would be nice if what we just said about someone believing Green Bay fans are one of the most deserving fan bases of a championship during the upcoming season was false. But unfortunately, this is true.
NFL.com's Joe Thomas, a former All-Pro offensive tackle with the Cleveland Browns, recently selected the Packers fan base as the most deserving of watching their team win the Super Bowl in 2021.
Here's what Thomas had to say about his comical declaration involving the Green Bay fans and their current state of sadness.
""I realize that the Green Bay Packers have no shortage of championships, with nine pre-Super Bowl era titles and four Super Bowl victories. But never has an organization and fan base been in so much distress while also being so stable and loaded with talent. After falling in consecutive NFC title games, their disgruntled reigning league MVP Aaron Rodgers held out of OTAs, and there's no sign he'll return to the team later this month when training camp begins. Winning the Super Bowl is the only thing that can calm the nerves and dial back the current DEFCON warning system of Packers loyalists.""
Oh no, Packers fans have dealt with so much heartache during the last few months. How will they possibly be able to go on?
Oh please, give it a rest. Try rooting for a team that has never won a Super Bowl during their entire existence in the NFL like the Vikings, Browns, Buffalo Bills, Detroit Lions, or any of the eight other teams to never capture their own Vince Lombardi trophy.
Green Bay and their four Super Bowl wins, including one in 2010, should have never even been a consideration. Not sure what Mr. Thomas was thinking when he made his choice, but he certainly missed the boat with his selection.