Norv Turner wants to ride Adrian Peterson until he drops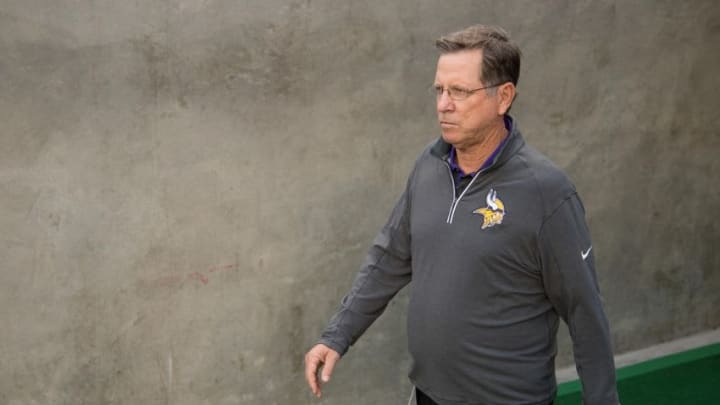 September 14, 2015; Santa Clara, CA, USA; Minnesota Vikings offensive coordinator Norv Turner exits the team tunnel before the game against the San Francisco 49ers at Levi /
Norv Turner isn't planning on giving Adrian Peterson much rest in 2016, but is this a good approach?
Adrian Peterson has run the ball 2,381 times in his career and if Norv Turner has his way that number will soon be north of 2,700.
For Peterson to surpass 2,700 career carries in 2016, he will have to average around 20 per-game. And that is the exact number Turner is targeting.
Turner told Sirius radio about his Adrian ratio:
Is that a good number for Adrian Peterson or is that too big a workload for the 31-year-old running back?
And is letting Peterson run that much really a good thing for the Vikings' offense?
We know Peterson is a physical freak who possesses superhuman durability and pain tolerance. Peterson will embrace the challenge of running the ball 20-times-per-game if he has to do so.
More from Minnesota Vikings News
On the other hand, Peterson did seem to slow down a lot toward the end of last season due to a multitude of injuries. Last year he carried the ball 327 times, the third-highest total of his career.
Our automatic assumption is that Peterson can do anything but in truth he is only human and believe it or not has a breaking-point.
Running the ball 20 times-per-game won't be good for Peterson's health and it might not be good for the Vikings' production either.
Last year Peterson struggled mightily when the Vikings went to Teddy Bridgewater-friendly shotgun looks. That led to a lot of hand-wringing from fans and media.
Related Story: Jerick McKinnon: The best player nobody is talking about
It was thought that this year the Vikings might use Jerick McKinnon more, both to take advantage of his particular skills and to make their shotgun offense more proficient.
But if Peterson is still getting the ball 20 times each game, how much will McKinnon even be in there?
Using McKinnon strictly as a third-down back might be a waste of his talents. Peterson should get his carries of course but McKinnon should have a larger role than the Adrian ratio implies.
Peterson and McKinnon lining up in the backfield together has been floated out there but there's no way of knowing if that will actually work.
I personally would like to see more of an even split between Peterson and McKinnon. Not 50-50 because that's unrealistic, but maybe something in the area of 65-35.
McKinnon showed last year that he can be a weapon especially in the passing game. The Vikings need to have a more unpredictable offense and McKinnon can be a big part of that picture if Norv Turner uses him.
The fact that Peterson's workload is expected to be so large tells me the Vikings still don't have a lot of faith in their passing game. But at some point Minnesota has to get past its fall-back-on-Peterson approach and let Teddy Bridgewater become the true leader.
As long as the Vikings feel the need to feed Peterson, Bridgewater's development will somewhat suffer. In the long-run, that's not good for the team.